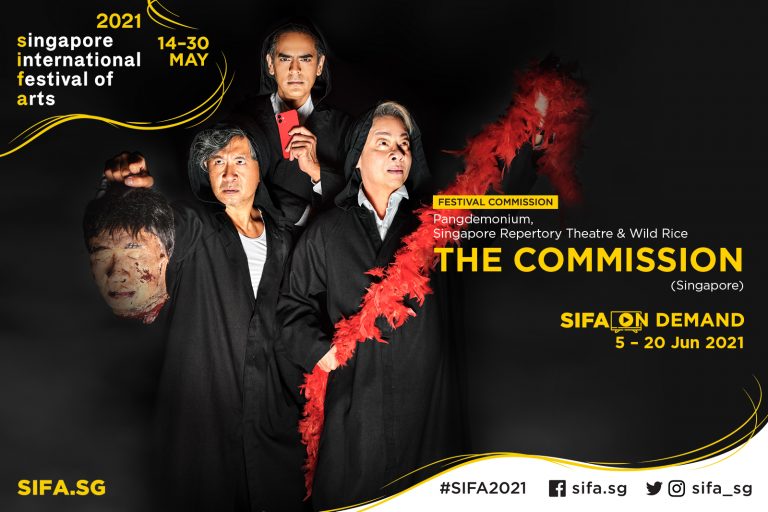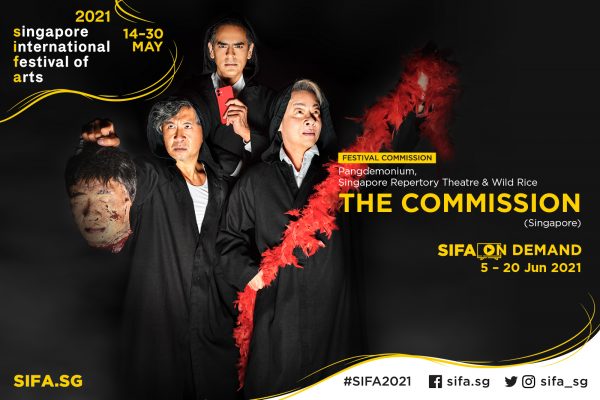 CAMPAIGN STORY
This campaign has closed.
If you wish to continue supporting our three companies, you may do so at our individual giving pages:
---
Following an already difficult year in which theatre companies and practitioners have suffered crippling financial losses due to the global pandemic, Singapore's performing arts industry has taken another hit as a result of the ongoing COVID-19 outbreak.
To combat the rise in community cases in late April and early May, the Ministry of Health instituted stricter regulations on attending and presenting live performances. In line with these new regulations, we had to cancel the final two performances of The Commission as part of the Singapore International Festival of Arts. This very special production saw our three companies – Pangdemonium, Singapore Repertory Theatre and Wild Rice – coming together on stage for the first time. It was meant to be a celebration of the power and importance of live theatre, at a time when so many theatres around the world remain dark.
Unfortunately, we and Singapore's theatre community now find ourselves facing great uncertainty once again. During this Heightened Alert phase, we have had to cancel or postpone our upcoming productions. At the same time, it remains unclear if or even how we can proceed with the rest of our 2021 seasons. As you can imagine, this turn of events has greatly affected our financial stability and our ability to plan ahead for the foreseeable future.
If you are in a position to do so, please consider supporting our three companies, or another arts organisation of your choice. Your donation will help us to survive and sustain ourselves through these difficult days, while also securing the livelihoods of all those who work with us, including the hundreds of freelance theatre practitioners we hire each year.
Donations will be made in Singapore dollars.
Please note that tax deductions are not applicable for donations made through this campaign.
All proceeds from this campaign will be split equally between our three companies:
PANGDEMONIUM
Pangdemonium is a proudly Singaporean theatre company with a mission to tell stories that are challenging, inspiring, relevant, accessible and above all, of the highest artistic, entertainment and production value. It also actively nurtures new talent by creating opportunities for aspiring artists and technical practitioners to work in a professional, challenging and nurturing environment.
SINGAPORE REPERTORY THEATRE (SRT)
Now in its 28th year, SRT proudly flies the Singapore flag as one of the region's leading theatre producers. The company's repertoire includes critically acclaimed plays, like Art and Disgraced, as well as original Singaporean musicals such as Forbidden City. SRT is also well-known for its Shakespeare in the Park series, and is one of Singapore's biggest producers of children's shows. SRT was the first Singaporean theatre company on Broadway as Associate Producer on Golden Child. International collaborations include RSC's King Lear, starring Sir Ian McKellen, and Sam Mendes' The Bridge Project. Annually, SRT's Learning & Engagement and Access programmes give thousands of people the opportunity to experience the magic of theatre – many for the very first time.
WILD RICE
Wild Rice was founded in 2000 by Ivan Heng, an internationally acclaimed and award-winning theatre practitioner, and is today recognised as one of Singapore's leading professional theatre companies. Its mission is to inspire, challenge and entertain audiences by presenting the best of Singapore theatre, both at home and all over the world. In 2019, Wild Rice opened its own groundbreaking performing arts complex in the heart of Singapore's civic and cultural district. With a home to call its own, Wild Rice is currently ramping up its educational and outreach programmes as part of its ongoing efforts to nurture the artists and audiences of tomorrow.
The Commission
Presented by Singapore International Festival of Arts 2021, The Commission marked the first time our three companies came together to produce and perform a live show. Created as a live sequel to The Pitch, The Commission is a celebration of the power and importance of live theatre. It breaks our hearts that this very special production's limited run was cut short due to the stricter regulations imposed upon live performances from 16 May 2021. The Commission will be available for streaming online for a limited period in June 2021. Find out more about:
The Commission – https://sifa.sg/programmes/theatre/the-commission
The Pitch – https://www.thepitch.sg/ 
---
About Ray of Hope
100% of your donations through Ray of Hope goes to people in need. We do not take a cut from the funds. We even cover the 3rd party credit card charges, if you choose not to, that other crowdfunding platforms deduct from your donation for campaigns.
100% of all campaigns are also fully verified, so you know your funds goes to real people with real needs.
We take donor accountability very seriously – with yearly audited accounts and strong governance in place to ensure that your donations is properly channeled to the beneficiaries.
Ray of Hope is a registered charity and a member of the National Council of Social Services.
Wai Wai Yang
donated
S$

300.00
3 months ago
Thank you for your courage, determination and strength. You are an inspiration. Keep the faith!
Anonymous
donated
S$

60.00
3 months ago
Very heartening to see the 3 companies working together. The content coming out of the collaborations have been nothing short of amazing!
Hak-Peng Chng
donated
S$

1,050.00
4 months ago
Congratulations on a fantastic Commission!
June51 Ong
donated
S$

150.00
4 months ago
Zhi Yi Yeo
donated
S$

40.00
4 months ago
Anonymous
donated
S$

200.00
4 months ago
A big thank you from Pangdemonium, SRT and WILD RICE
Dear Donors, We simply cannot thank you enough for your invaluable contribution to The Commission by Pangdemonium, Singapore Repertory Theatre (SRT) and WILD RICE. We hope you enjoyed the streaming of the production over the 2 weeks period last month. Through the campaign, we've raised a total of $2,070, which will be……
June51 Ong
donated
S$

150.00
4 months ago
Zhi Yi Yeo
donated
S$

40.00
4 months ago
Anonymous
donated
S$

200.00
4 months ago
https://rayofhope.sg/campaign/the-commission/