$

50.00
Raised of S$2,400.00
163

Days to go

2%

Completed
Campaign Story
The Struggle
Madam Ng, 58 years old, was a healthy individual until a fall in June this year. The loving grandma was on her way to send her grandchildren to school when she fell at the flight of stairs near her home. The sudden fall left her in great pain, but Madam Ng struggled with the pain and sent her young grandchildren to school with a bad limp before visiting the doctor. Unfortunately, her fall resulted in more than just fracture, and she broke her right leg instead. Madam Ng underwent surgery for her leg only in mid June, and is currently struggling to get around even in her two-room rental flat.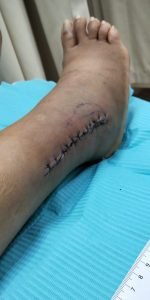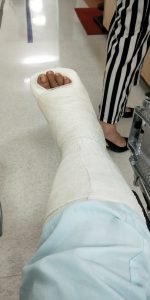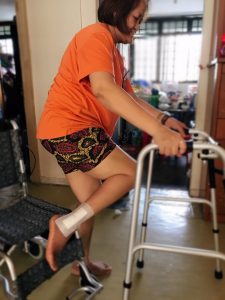 Since her fall more than a month ago, the 58-year-old was suddenly rendered helpless and could not continue working. Madam Ng is currently still on medical leave, and she is worried that she might not be able to keep her job if she does not return to work soon. However, she has been advised by her doctor to have complete bed rest for full recuperation. The elderly feels completely helpless that she is unable to return to work anytime soon and often blames herself for not being able to share the caregiving duties of her grandchildren with her daughter.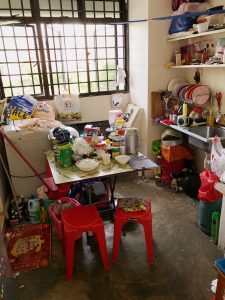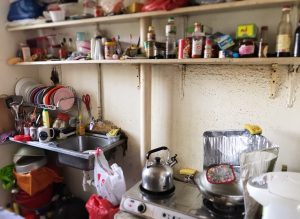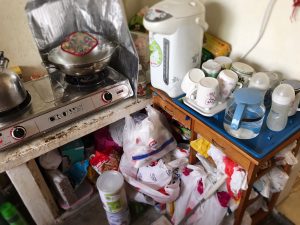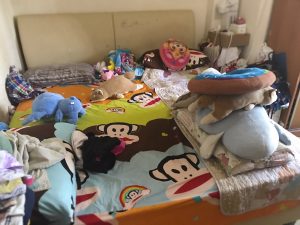 Give Hope to the helpless elderly
Madam Ng's life was fraught with numerous challenges even before her fall. Her husband, who could not work due to his heart issues, has been a compulsive gambler. Madam Ng took up numerous jobs in order to put food home for their two children, 28 and 27 years old now. No matter how strained finances were at home and despite the stress that she was put through each day, the children kept her going through the years. Since the passing of her husband, Madam Ng struggled to bring her children up. But being able to work brought comfort to her, knowing that she can continue working to support her family.
Madam Ng's daughter is a single mum to two children, 7 & 4. The 27-year-old who works as a credit card promoter, brings home around $1,600 a month and struggles to support her two children. Madam Ng's son is currently working part-time to support himself.
Madam Ng was working as a factory worker, bringing home a monthly gross salary of $1,000 before her fall. Despite her age, the loving grandma bore no complaints having to take care of her grandchildren while her daughter goes to work as her caregiving duties brought joy to her life. Since her fall, Madam Ng struggles with her daily living activities. She also relies on her kindhearted neighbor who is in her 70s to prepare simple meals for her every day without fail.
Financial Breakdown
The road to making a complete recovery once looked daunting to Madam Ng, but the resilient elderly believes in staying positive to be well again. Madam Ng told the case workers how she once felt like she was right at the end of a bottomless pit, but her neighbours and friends who have been supporting her gave her hope!
Ray of Hope would like to raise $2,400 ($400 x 6 months) for Madam Ng's food and transport expenses while she focuses on getting well.
A
Anonymous
Donated
$

50.00
July 10, 2019