Covid-19 Migrant Support Coalition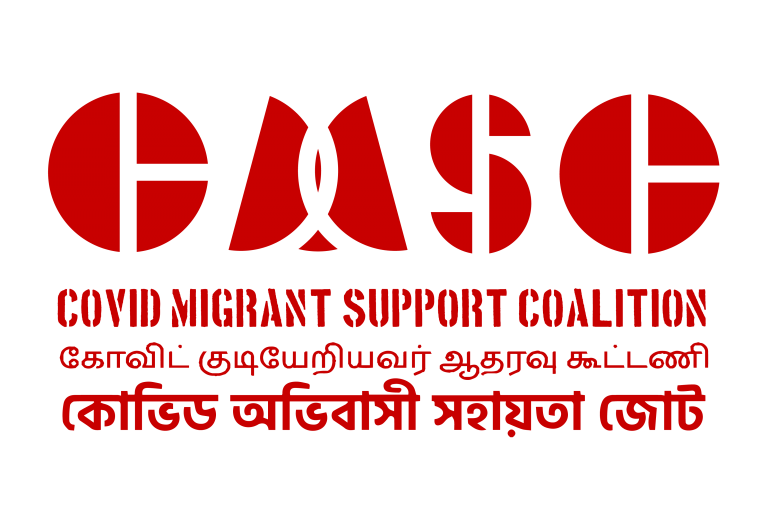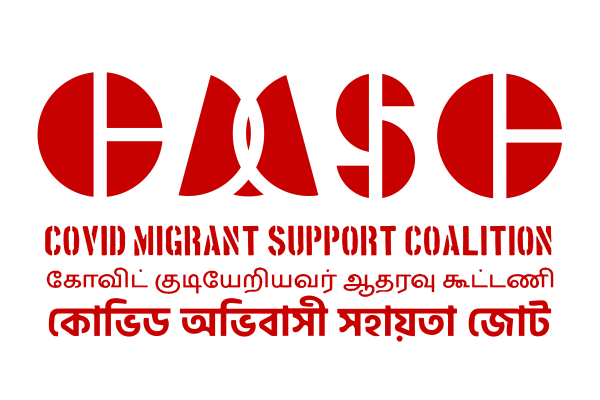 Covid-19 Migrant Support Coalition
---
S$

947,947.08
Raised of S$1,000,000.00
---
CAMPAIGN STORY
Updated Campaign as at 6 April 2021:
Campaign Story
Who we are
Established on 6 April 2020, the COVID-19 Migrant Support Coalition (CMSC) is a fully volunteer-run group-up initiative that started as a collaborative effort between a few smaller migrant workers supporting groups, together with other like-minded volunteers, to meet the needs of our migrant friends affected by the COVID-19 pandemic. To this end, we also actively engage their dorm operators and employers, the relevant Ministries as well as the wider public, so that the issues can be dealt with through a multi-sector perspective. The effort is a highly collective one, …
Read more
Anonymous
donated
S$

1,000.00
1 month ago
Lots of love from K&V and our guests
Melinda Poh
donated
S$

500.00
1 month ago
I hope my little contribution can go a long way in helping the migrant workers during these trying times. Hope that it can restore their smiles and may their well-being and mental health be taken care of.
Ong Ee Lin
donated
S$

940.00
2 months ago
From the team at Our Better World! :)
Anonymous
donated
S$

100.00
3 weeks ago
Jasmine Low Jasmine Low
donated
S$

25.00
1 month ago
Siang Eugene Teo Wei
donated
S$

20.00
1 month ago
1 Year Anniversary Update!
As CMSC reaches its 1st year anniversary mark this April 6th 2021, we are pleased to update our purposes and nature of our campaign on the ROH page to reflect the ongoing needs of the migrant workers that we seek to support. Please therefore see our updated plans for the……
It's a long way ahead - We need to work together for our migrant friends!
ItsRainingRaincoats (IRR) and coalition member organisations have not directly received any funds raised under this Ray of Hope campaign for CMSC.  It has been explained in the campaign page that funds raised are used for procurement of supplies, as well as other services, which CMSC is delivering to migrant workers……
Stay with us, as we work towards another funding target!
Dear Donors,  THANK YOU once again for helping us reach our $300,000 fundraising milestone! We'll like to let you know that our migrant friends and dorm operators have been expressing their gratitude towards your generous donations.  Till 19 April, we have utilised $8,229 to deliver 8,048 meals (of which 6,366……
With your generous support, we've reached another milestone!
Dear all, Kindness has a way of growing. We are truly heartened to receive your generous donations. Without your support, we will not be able to achieve our increased target of $300,000 within 9 days! At the time of writing [18 April 2020, 10:52am (GMT+8)], the Immediate Needs team had……
Thank you and we are expanding our reach!
Hi everyone,  Thank you for donating so generously! We were able to reach our initial target of $100,000 within 5 days. At the time of writing [14 April 2020, 11:11pm (GMT+8)], the Immediate Needs team had: Utilised $7,406 to provide and deliver 4349 meals between 7 Apr 2020 to 14……
S$

947,947.08
Raised of S$1,000,000.00
Anonymous
donated
S$

100.00
3 weeks ago
Jasmine Low Jasmine Low
donated
S$

25.00
1 month ago
Siang Eugene Teo Wei
donated
S$

20.00
1 month ago
https://rayofhope.sg/campaign/covid-19-migrant-support-coalition/