I'm struggling because of my medical needs. I skip my meals so that at least my son gets to eat."
Campaign started on 30/04/2020
S$

5,090.00
Raised of S$5,090.00
0

Days to go

100%

Completed
Campaign Story
"I'm only living for my son; my husband passed away."
This was what Ellie (not her real name) had said to the Officer at the ICA as she once again tried to plead for her son's Singapore Citizenship.
For the past two years, Ellie has been tirelessly attempting to apply for a Singapore Citizenship for her 10 year-old adopted son. She has gone to the ICA a total of 20 times, and had even appealed to the Prime Minister of Singapore in 2019, but with no tangible success so far. Recently, however, the ICA has told her that they will be able to get back to her in June of this year regarding her son's Citizenship application status.
Due to his citizenship status thus far, Ellie's son, who is currently in Primary School, has not been receiving any Government subsidies for his education. Ellie has had to pay $478 every month for her son to continue his education here. And she has been struggling to do so.
Two years ago, due to diabetes, Ellie had to have 3 of her toes amputated. Last year, she underwent another surgery for her foot. These surgeries have severely affected her ability to walk properly, and have thus made both finding employment and working extremely challenging for Ellie. Ellie has recently also underwent a surgery to repair a broken bone, as well as to reconstruct part of her leg, and would not be able to work for the next 4 to 6 months.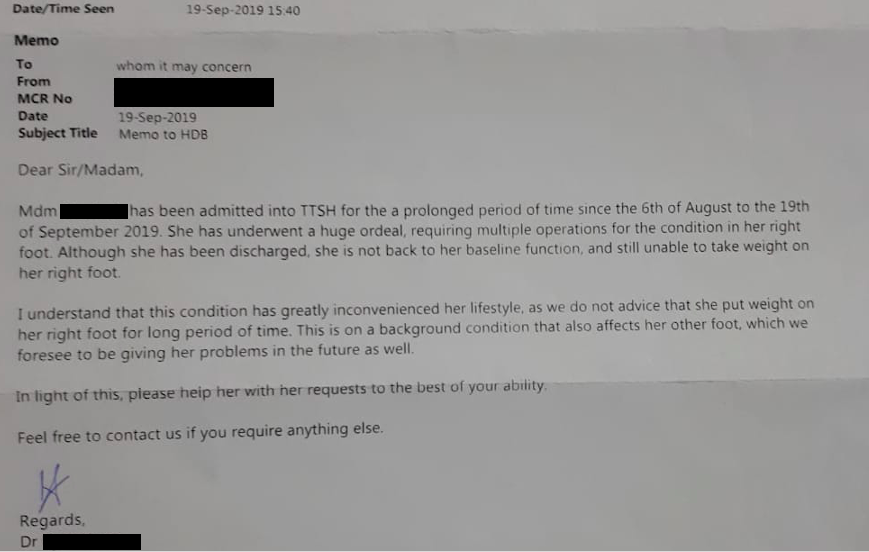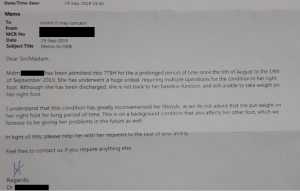 Despite the odds, Ellie has remained hopeful, and has not given up. She has faithfully been doing odd jobs to pay off her bills, and to give her son the best chance in life that he can have. However, with the meagre amount of income that Ellie has been earning, she is still unable to fully pay everything off.


You can help a single mum as she picks herself up
Ray of Hope is raising $5,090 to alleviate some of the debt that Ellie is facing. Hopeful that her son's Citizenship status will be granted in June, the amount raised will be used to clear off his outstanding school fees up till May 2020, which amounts to $2,390. An additional $2,700 ($450 x 6 months) will be used to support Ellie and her son's living expenses for 6 months while she gets well. Payment of school fees will be made to the school directly.
*Ellie is currently not receiving public assistance.
No updates on this campaign yet
https://rayofhope.sg/campaign/ellie/