S$

455.00
Raised of S$103,381.16
32

Days to go

0%

Completed
Campaign Story
Premature baby remains in the NICU while her parents raise funds to pay off the hospital bills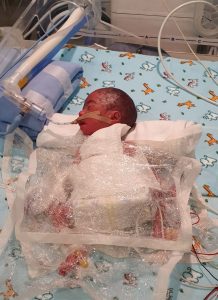 Elmine Grace is a baby born prematurely at slightly over 27 weeks. Elmine's mum, 36 year old Wilma, gave birth on 17 February 2020 and was placed in the ICU after her emergency caesarean. Although Wilma has now been discharged, Elmine is still in the NICU and is required to remain in the NICU for another 100 days. Wilma's hospital bills for her delivery and stay in the ICU are estimated at $103,381.16, and the family is still awaiting for their daughter's finalized hospital bill.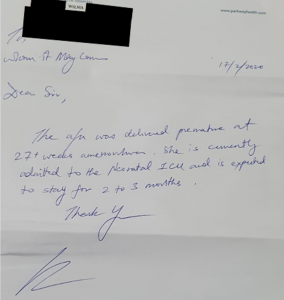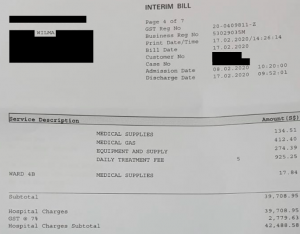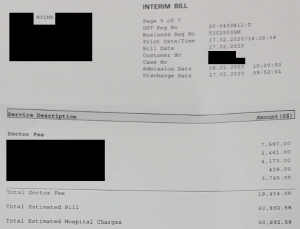 Elmine's parents are working in Singapore with a combined nett income of $6,000. Even with their income, they have exhausted their financial means to pay the rest of the hospital bills as they continue to snowball, having already paid close to $20,000 todate. Besides paying for their expenses here in Singapore, the couple is also supporting their family and parents in the Philippines. Their baby girl is currently still in the hospital and the parents are looking forward to the day that she can be discharged to be home with them. As a non-citizen, her hospital bills are also continuing to snowball.
Give hope to Elmine's helpless parents
Elmine's father, Edwin, told us how helpless he feels looking at his wife and daughter. "Everyday, I shuffle between work and the hospital as I need to take care of my wife and daughter. We hope to get some help so that our family can tide through this. Please help us.", the 36-year-old appealed.

Financial Breakdown
Ray of Hope would like to raise $103,381.16 to help the family of 3 as the baby continues to be monitored in the NICU. Your donations can give hope to them during this very difficult period!
*Elmine and her family are not receiving public assistance as they are non-citizens.
A
Anonymous
Donated
S$

150.00
March 24, 2020
A
Anonymous
Donated
S$

80.00
March 06, 2020
Don't give up.
A
Anonymous
Donated
S$

5.00
March 01, 2020
A
Anonymous
Donated
S$

20.00
February 28, 2020
A
Anonymous
Donated
S$

100.00
February 27, 2020
Sending your family a warm hug
R
Rokon Mondal
Donated
S$

100.00
February 25, 2020
No updates on this campaign yet