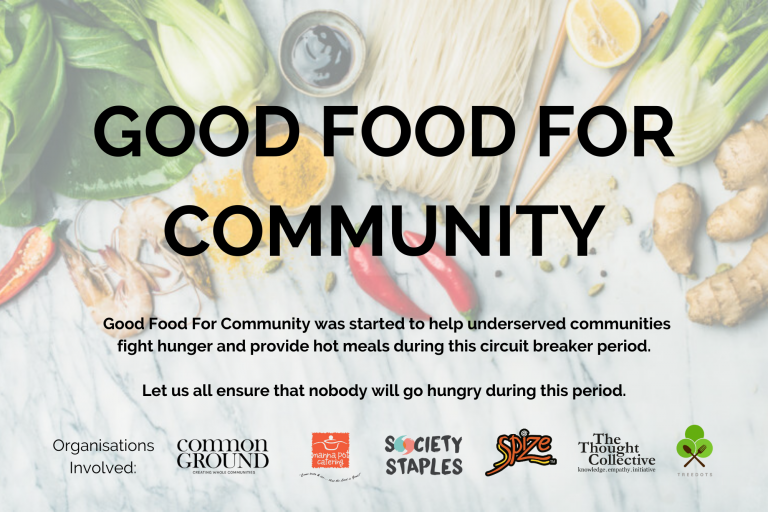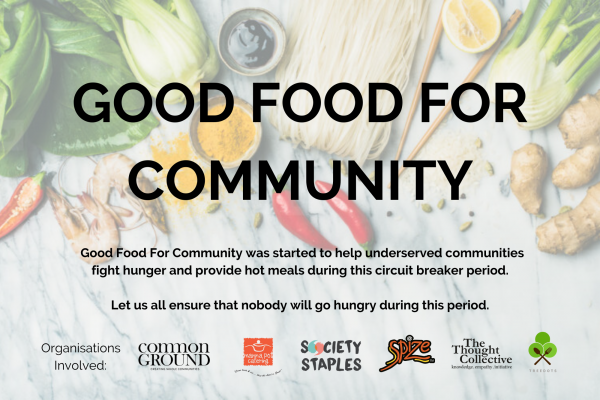 ---
S$

37,288.00
Raised of S$71,000.00
---
CAMPAIGN STORY
What is Good Food For Community? 
On 6 April 2020, Good Food For Community was started to help underserved communities fight hunger and provide hot meals during this circuit breaker period to respond to the increasing support needed from these communities. 
Throughout this period, Good Food for Community has been working closely with social service agencies (SSAs). These are non-profit organisations who are serving these communities and assessing their needs.
Social service agencies have been reaching out to the community and are trying to understand and support existing and emerging needs on the ground. However, there is a limitation to the number of people in the community which they can reach out to and the speed at which the support can be given.
With the recent measures, it also added another challenge for social service agencies to reach out to certain parts of the community in need. We saw the opportunity to support the good heart work our social service agencies are doing, and wanted to help ease some of the burden on these communities by serving ready to eat, halal certified meals, before other forms of support from the SSAs come into place.
Who Do We Serve? 
21 communities ranging from low income families, disadvantaged children and youths, persons with disabilities, seniors and migrant workers have benefitted from GFFC meals. With the evolving ground needs, we are presently still active in 9 of these communities.
Impact Created Thus Far 
Thanks to your overwhelming support and generosity, we successfully raised $52,454 which supported the cost of 15,848 meals from 6 April to 4 May 2020. 
We are committed to serving 37,239 meals in the extended circuit breaker period (5 May to 1 June) and need your help to cover the cost of meals totalling $71,000. 
How Will My Donations Be Used?
Your donations will be channelled towards the purchase of meals and food delivery costs to Manna Pot and Spize. 100% of your donations go towards the initiative and there will be no administrative or manpower costs claimed for this initiative by Common Ground, Society Staples Cares or The Thought Collective.
Who We Are?
Common Ground
(CG) builds civic capacity and bridges the public, people and private sectors to facilitate social innovation for pressing national concerns.
TreeDots (TD) redistributes surplus produce to businesses and households at affordable prices, while reducing food loss.
Manna Pots (MP) is a halal certified caterer that aims to provide delicious, wholesome food for the soul.
Society Staples Cares (SSC) is a unit under Society Staples, an organization whose intervention allows for social communication and action to take place and grow towards an inclusive world.
Spize is an Asian & Mediterranean restaurant that inspires to nourish the human spirit. They are the food caterer cooking South Asian meals for the migrant worker communities.
The Thought Collective (TTC) helps individuals and their organisations develop the social and emotional competencies they need to create the cultural change they long to see. TTC's mission is to build up Singapore's social and emotional capital. Common Ground is a civic centre founded by TTC, in collaboration with MCCY.
Breakdown on Target Fundraising Goal
Quantity of meals for amount to fundraise: 37,239
Amount to fundraise: $71,000
---
For more information and updates, kindly visit to www.sswithyou.sg/gffc
If you have further questions, please email us at hello@societystaples.com.sg and shihui@ourcommonground.com.sg
---
About Ray of Hope
100% of your donations through Ray of Hope goes to people in need. We do not take a cut from the funds. We even cover the 3rd party credit card charges, if you choose not to, that other crowdfunding platforms deduct from your donation for campaigns.
100% of all campaigns are also fully verified, so you know your funds goes to real people with real needs.
We take donor accountability very seriously – with yearly audited accounts and strong governance in place to ensure that your donations is properly channeled to the beneficiaries.
Ray of Hope is a registered charity and a member of the National Council of Social Services.
Leonard Koh
donated
S$

110.00
1 year ago
Continue to shine!
Wei Neng Family and Friends
donated
S$

2,000.00
1 year ago
Thank you for your hard work and effort :)
Tiana Miller-Jackson
donated
S$

100.00
1 year ago
Hope this food fills you in both your stomach and in your heart. Hope you know that you matter and are cared for.
Anonymous
donated
S$

53.00
1 year ago
Anonymous
donated
S$

200.00
1 year ago
Anonymous
donated
S$

300.00
1 year ago
No updates on this campaign yet
S$

37,288.00
Raised of S$71,000.00
Anonymous
donated
S$

53.00
1 year ago
Anonymous
donated
S$

200.00
1 year ago
Anonymous
donated
S$

300.00
1 year ago
https://rayofhope.sg/campaign/gffc/