My 7-year-old son would ask me, "Why am I different from my classmates?"
Campaign started on 2019-12-26
S$

1,552.00
Raised of S$2,000.00
124

Days to go

78%

Completed
Campaign Story
The Struggle
Even when he is just a 7-year-old boy, Rayyan is the big-hearted and cheerful boy who understands how much his parents have given up to care for him. Always spotting a big smile on his face, there is a side of Rayyan that he seldom expresses to anyone besides his parents, especially on some days when he asks his mum why must he go through so much pain each day. Rayyan was diagnosed with Klipple-Trenaunay-Weber Syndrome since young which causes him to have bleeding per rectum, leg swelling and pain due to vascular malformations that are part of the syndrome. His bleeding would require blood transfusions in the hospital.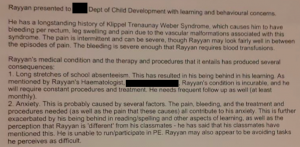 He requires several sessions of sclerotherapy and is also in oral medication to reduce his episodes of bleeding. On his bad days, he will be using a wheelchair if the pain persists. In addition, he needs full time caregiver as his condition requires constant procedures and treatment to ameliorate the symptoms.
Despite all that he has to go through for his age, Rayyan, who is the big brother to his 3-year-old sister, often encourages his parents to look beyond their circumstances and stay positive.
Help Needed – Give Hope
Rayyan's family is supported his father – the sole breadwinner who works as a bowling technician. The 42-year-old is in need of a knee replacement surgery and has diabetes and arthrtis. Rayyan's mum, Mdm Su was working 3-4 hours a day as a stall helper to sustain an additional income for the family, but left her job sometime in June this year when Rayyan had multiple surgeries due to the deterioration of his condition.
With a nett household income of $1,700, the family has to scrimp to save up every extra dollar to make ends meet. The couple was previously receiving a highly subsidized fee of $30/month for their daughter's childcare, but now worries about having to pay $600/month without subsidy, now that Mdm Su is not working at all due to her caregiving duties.
Financial Breakdown
Ray of Hope would like to raise $2,000 ($400 x 5 months) to help Rayyan's parents with their groceries expenses. Please donate to give hope to the family with two young children!
* Rayyan's parents are currently not receiving public assistance. 
A
AY TS
Donated
S$

2.00
January 21, 2020
E
Elcholas Yeo
Donated
S$

200.00
January 21, 2020
E
Elcholas Yeo
Donated
S$

50.00
January 21, 2020
A
Anonymous
Donated
S$

10.00
January 20, 2020
R
Rokon Mondal
Donated
S$

100.00
January 19, 2020
J
Jing Ting Poon
Donated
S$

100.00
January 14, 2020
Dear Rayyan, never give up. You have a bright future! God loves you & has a plan for your life.
M
Mary Chew
Donated
S$

100.00
January 13, 2020
A
Anonymous
Donated
S$

50.00
January 08, 2020
C
Ching San Yeo
Donated
S$

500.00
January 08, 2020
Donated
S$

200.00
December 30, 2019
R
Rena chew
Donated
S$

200.00
December 30, 2019
Donated
S$

20.00
December 27, 2019
A
Anonymous
Donated
S$

20.00
December 26, 2019
No updates on this campaign yet