"I don't have much to offer but I want to give my son the best of what I have"
Campaign started on 10/03/2020
S$

610.00
Raised of S$3,000.00
155

Days to go

20%

Completed
Campaign Story
48 year old mum with medical conditions struggle to raise her son during husband's incarceration
Mdm Rosmini, mum to her 21-year-old son, has always had her child's interest at heart no matter what decisions she made. "He is my only child. I don't have much to offer but I want to give my son the best of what I have", she told the case workers when they visited her at their flat. Adding on to why she was requesting for financial aid, the 48-year-old explained that behind her smiles lie a painful past. But it is also her past that made her who she is today. Unfortunately, Mdm Rosmini was also diagnosed with adjustment disorder and is currently unfit for employment for a year.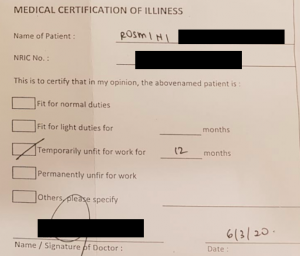 Mdm Rosmini told us that despite all that she has gone through over the years, she has learnt to draw strength from her painful past that has cost her the relationship she shares with her son. Till today, the resilient mum tries her best to reconcile the relationship with her son and treasures the times that she gets to spend with him whenever he is not in school or with his friends. Mdm Rosmini says that both she and her son enjoy giving their time back to help families in need, especially after receiving help from the community. "I don't want to hide my past because this is me. I want to inspire other ladies to pick themselves up", she says.
Give hope to a mum as she tries to pick herself up
Mdm Rosmini had come a long way since her first retrenchment in the year that her son was born. But Mdm Rosmini refused to give up on herself and continuously took on office skills and computer courses to upgrade herself to stay employable. Even when she only had a 'N' Level certificate, she did not bow down to reality and studied her way to completing her 'O' Levels eventually. Mdm Rosmini also took on any available part-time jobs concurrently, and her only wish is for her son to get three full meals each day and to be able to continue schooling without worrying about the family's finances.
When asked about her family support, Mdm Rosmini told us that her husband is currently incarcerated for drugs. Over the years, despite the hurt that he has brought to the family, Mdm Rosmini chose to forgive him so that her son can have a complete family, even if it meant having to go through the process of being hurt over and over again by his irresponsible actions.
Quoting Mdm Rosmini, "My husband landed me in jail for 3 years. I felt so helpless as my son was left alone, and it was also when my mum had passed away." She also shared that her son who was only 11 when she was in prison. The teen had attempted suicide while he was alone at home, only to be found by his close friends who had then persuaded him not to give up on his life. "I only learnt about it when I read his diary, but I can imagine the pain that he was going through at that point in his life without me or his grandma. Now I just want to spend my life making up to him by being there for him", Mdm Rosmini told us.
Mdm Rosmini's son was also featured in Berita Harian for his achievements in floorball – an area that he is keen to pursue in the near future.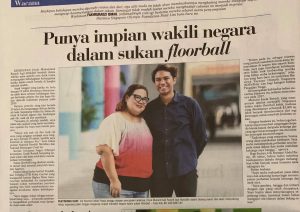 Financial Breakdown
Ray of Hope would like to raise $3,000 ($500 x 6 months) to defray Mdm Rosmini with her expenses as her social assistance ends in April, and she is unfit for employment for a year. Please donate to give hope to the resilient mum!
*Mdm Rosmini is currently receiving social assistance and it ends in April 2020.
A
Anonymous
Donated
S$

500.00
March 13, 2020
A
Anonymous
Donated
S$

100.00
March 13, 2020
A
Anonymous
Donated
S$

10.00
March 13, 2020
Amalan tarik rezeki. :) 1. Solat Dhuha 2. Solat Taubat 3. Istighfar
No updates on this campaign yet