"My back and hands are in pain. I told my employer but they asked me to resign if I am not happy."
Campaign started on 03/03/2020
S$

1,050.00
Raised of S$1,050.00
0

Days to go

100%

Completed
Campaign Story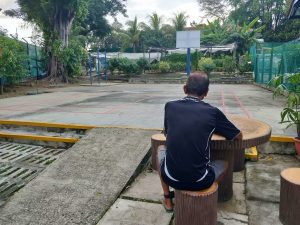 Despite falling repeatedly, 57 year old strives to pick himself up again
To be accepted back into the society after incarceration often takes heaps of courage, but so is seeking forgiveness and understanding from your family and loved ones. And many a times, one spends a long time making up for a mistake made and on reconciling relationships.
Mr Shan was taking on adhoc jobs to support his elderly mum. He was also a healthy individual with no health conditions who was able to support his lifestyle. Unfortunately, he took a wrong step and ended up in prison after coming into contact with drugs. Now at 57, Mr Shan says that he no longer wishes to live a life of regret.
Mr Shan tries his best at his job, only to fail again
Since January this year, Mr Shan started working as a cleaner in a restaurant, and was due to receive his first salary of around $1,200 in end February. Unfortunately, having worked 6 days a week and more than 7 hours a day, Mr Shan suffered from lower back pain and injured his hands from the constant washing of dishes. He was also admitted in the hospital in end February due to his chronic back pain.
"I am one person handling the opening and closing of the restaurant. By the time I finish washing all the dishes when I end at 6:30pm, I only leave my workplace at 7:45pm and rush back to report to the halfway house. My back and hands are in pain. I feedback to my employer but they told me to resign if I am not happy", Mr Shan told us.
Mr Shan has since left his employment after considering how repeatedly washing huge amount of dishes would aggravate the pain on his back and hands. He also hopes to make a fast recovery first so that he can start working without having to worry about his health condition. But now that he is back to being unemployed, Mr Shan is worried about not being able to find a job as he only completed his primary school education and is already 57 this year. He is working closely with his case workers from the halfway house to continue attending courses and job interviews so that he can get secure an employment soon.
Your donations can give hope to Mr Shan
Ray of Hope would like to raise $1,050 ($350 x 3 months) to help Mr Shan with his meals and transport during this period! Please donate to give hope to Mr Shan while he picks himself up.
*Mr Shan is not receiving social assistance.
A
Anonymous
Donated
S$

45.00
April 15, 2020
C
Collin Ong
Donated
S$

100.00
April 15, 2020
K
Kaiying Tang
Donated
S$

100.00
April 14, 2020
S
Shawn Lee
Donated
S$

15.00
April 14, 2020
E
Emmy Abdul Alim
Donated
S$

100.00
April 14, 2020
B
Benjamin Lim
Donated
S$

100.00
April 14, 2020
D
Deborah Ho
Donated
S$

100.00
April 07, 2020
A
Anonymous
Donated
S$

100.00
April 07, 2020
B
B Gan
Donated
S$

100.00
April 07, 2020
C
Candice Lee
Donated
S$

100.00
April 06, 2020
K
Kang Wee Lee
Donated
S$

50.00
April 05, 2020
A
Anonymous
Donated
S$

20.00
April 05, 2020
T
Tina Ho
Donated
S$

50.00
April 05, 2020
A
Anonymous
Donated
S$

20.00
March 31, 2020
A
Anonymous
Donated
S$

50.00
March 10, 2020
No updates on this campaign yet