"She is our sister. How can we leave her alone when she is in this state now?"
Campaign started on 23/12/2019
S$

3,000.00
Raised of S$3,000.00
0

Days to go

100%

Completed
Campaign Story
The Struggle
On 30th September 2019, Su Fen was at her workplace when she fell. She was in a critical condition when she was sent to the hospital and was required to undergo an intracranial operation immediately due to excessive bleeding in her brain from the fall. As a result of the 6-hour operation, a third of Su Fen's skull was removed. Unfortunately, as fluid was building up within her skull, she had to undergo another operation. Shu Fen also underwent a restorative surgery for her skull where artificial bones were put in so that she could have a complete skull.
Additionally, Su Fen also contacted infection on her lungs, causing her to cough very badly everyday. Even after her surgery, Su Fen remains unconscious and is currently still not out of danger till date. Doctors have also advised that with the damages to her skull, the possibility of epilepsy for Su Fen is very high.
Help Needed – Give Hope
Su Fen, who is not married, was working in Singapore for more than two years before the accident. She also took up loans amounting to S$11,000 to pay off her agent's fees in order to work in Singapore. It has been a long, painful wait and the future remains daunting for Su Fen's family since they were informed of her mishap. Su Fen's two sisters are currently taking care of her in the hospital. But it is not the end to their woes, having left their own families and elderly mum home in China. After all, they have been in Singapore since early October and there is no way of knowing when their sister will truly be out of danger. Their elderly mum had undergone an operation for her leg, and is also struggling with her other ailments.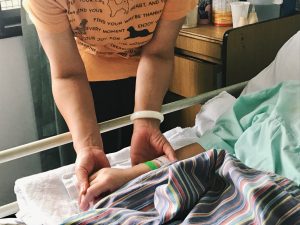 Financial Breakdown
Ray of Hope would like to raise $3,000 ($500 x 6 months) to help Su Fen's family through this very difficult period. Your donations can give hope to Su Fen and her family! 
March 7, 2020

2nd disbursement

The case workers understand that Su Fen has been discharged from the hospital to home care in view of the Covid-19 virus, as she was not receiving any form of treatment although she was in the hospital and her caregivers were not allowed to stay over at the hospital either.…

Read More

January 31, 2020

1st disbursement

The case workers met Su Fen's sisters just before Chinese New Year to disburse the funds to them. Ray of Hope has also raised an additional $300 through our Hong Bao for Hope 2020 campaign. While there is little progress in Su Fen's condition, knowing that the community cares about…

Read More
M
MEI PING LEE
Donated
S$

95.00
January 12, 2020
Love heals
T
Tai Hwa Ng
Donated
S$

5.00
January 11, 2020
m
michael soon
Donated
S$

2,000.00
January 06, 2020
Donated
S$

100.00
December 27, 2019
A
Anonymous
Donated
S$

100.00
December 26, 2019
Unity is strength when sisters gathered to support one another. Pray for her speedy recovery. 愿主耶穌保佑你赶快慷復!
Donated
S$

150.00
December 26, 2019
K
Kenneth Kan
Donated
S$

150.00
December 26, 2019
Donated
S$

200.00
December 26, 2019
T
T C
Donated
S$

100.00
December 24, 2019
Wishing that you will get well soon!
A
Anonymous
Donated
S$

100.00
December 24, 2019