She relies on 14 types of medications to get through her day
Campaign started on 23/08/2019
S$

1,650.00
Raised of S$1,650.00
0

Days to go

100%

Completed
Campaign Story
*Double your giving this December! Every dollar donated to our campaigns will be matched dollar-for-dollar this December!*
The Struggle
Since a second knee operation, Mdm Halijah, 67 years old, spends most of her time visiting the doctors to follow up on her medical conditions. She suffers from multiple illness – diabetes, high cholesterol, cataract and severe breathlessness. She is now also suspected of having kidney issues and is due for more tests and checks. She also has difficulties getting around as she often feels dizzy and light headed. This has led Mdm Halijah to staying in her one room rental flat on most days when she does not have any appointments.
The 67 year old has lost count of the number of pills that she has to take every day just to sustain life and get through her day.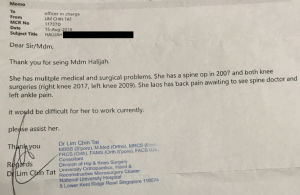 Help Needed – Give Hope
Because of the massive amount of pills she has to take, she often experiences severe side effects that make it difficult to get by. The pain at her spine causes her to lose sleep every night as she frequently experiences short sharp pains that make it difficult to stand or sit for long. Her failing knees also make it difficult for her to get around.  The 67 year old is currently relying on the combined assistance of $260 from a religious organisation as well as a foundation to get by. Unfortunately, that amount is barely sufficient, especially when she can only take a cab for her medical appointments. Mdm Halijah could only make do with the little she has. She confided in us that on most days, she only get by with just one meal of maggie mee just to make ends meet.
Mdm Halijah enjoys cooking and baking a lot, and used to owe a food stall where she spends her time managing it with her husband. When her husband passed away more than 10 years ago, she gave up on her food stall after she was unable to keep up with the stall rental and other expenses. The 67-year-old then took on cooking jobs, but ultimately stopped working when she was due for her spinal surgery. She also underwent an operation for her left knee, and subsequently her right knee gave way and she had to undergo a surgery in 2017. Since then, Mdm Halijah could not continue working and relied on her savings, which eventually depleted after all these years.
Mdm Halijah has 2 biological sons. Her eldest son has passed on and her second son broke off contact with her and has not called or texted her since he left home in 2015. She also has an adopted son who is currently residing in Malaysia, whom she visits occasionally. She no longer keeps in contact with her siblings since she was unable to visit them during Hari Raya back in 2017 after her knee operation.
Despite what she is fighting against every day, Mdm Halijah believes in tackling one day at a time. Even with the little she has to offer, Mdm Halijah occasionally tries to bake and cook for other elderly in the senior activity centre near her place as she knows exactly how it feels like to have no social or family support. Her positivity struck a chord in us and Ray of Hope is looking to assist her with groceries expenses and arrears.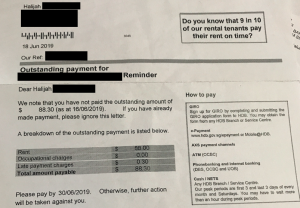 Financial Breakdown
Ray of Hope would like to raise $1,648.80 for Mdm Halijah's living expenses ($250 x 6 months) and rent and town council arrears ($148.80). Payment for the arrears will be made to the various agencies directly.
January 23, 2020

4th disbursement

Mdm Halijah has received her cheque for this month. She shared with us that her legs have been swollen whenever she walks or stand for too long, making it difficult for her to travel on her own. Fortunately, her friends have been helpful and often offers to fetch her to…

Read More

December 26, 2019

Mdm Halijah is keeping herself busy by selling Kuey

The case managers just met Mdm Halijah for her disbursement. Here's a quick update from her. "The festive season is here, so I've been busy making kuey for weddings and events so I can earn some money for myself. It's hard work, I can't stand up for long because my…

Read More

November 11, 2019

2nd disbursement

The case workers visited Mdm Halijah last week for her cheque disbursement. We were updated that her appeal for public assistance was rejected once again. This leaves the 67-year-old helpless about the situation as she is unable to cope with her monthly living and transport expenses, especially on months that…

Read More

September 24, 2019

1st disbursement made to Mdm Halijah

The case workers visited Mdm Halijah for her first disbursement yesterday! Mdm Halijah wishes to thank the donors for reaching out to her as she is currently not receiving any SSO assistance currently. She updated us that with the recent Silver Support payout, she has managed to clear her outstanding…

Read More

August 24, 2019

Happy Birthday Mdm Halijah!

A sponsor and her family recently celebrated Mdm Halijah's birthday. It was a memorable celebration for Mdm Halijah who was not celebrated her birthday for the past 10 years. Our heartfelt thanks to the sponsor for putting the smile on Mdm Halijah's face! :)
Donated
S$

75.00
December 18, 2019
E
Eileen Tay
Donated
S$

75.00
December 18, 2019
Donated
S$

500.00
December 17, 2019
R
Ryan Sham
Donated
S$

500.00
December 13, 2019
Donated
S$

60.00
November 04, 2019
A
Anonymous
Donated
S$

150.00
November 02, 2019
Cik Halijah, semoga diberi kesihatan yang mantap dan rezeki dilimpah ruahkan, in shaa Allah :)
A
Anonymous
Donated
S$

10.00
October 04, 2019
Donated
S$

250.00
September 12, 2019
A
Anonymous
Donated
S$

20.00
September 03, 2019
A
Anonymous
Donated
S$

10.00
August 28, 2019