(Urgent) Help an injured and unfairly treated domestic worker who is going blind!
Campaign started on 2020-01-13
S$

100.00
Raised of S$3,000.00
32

Days to go

3%

Completed
Campaign Story
"My insurance was unfairly taken away from me and now I am going blind" – Mdm Rosalina
When Ray of Hope's case managers met 45-year-old Mdm Rosalina at a migrant worker advocacy shelter, her right eye was red, and she had trouble with her vision. She has been working in Singapore for 9 years and is the sole breadwinner of her family. The soft-spoken domestic worker could not hold back tears when she reencountered the injustice she suffered.
6th December 2019, 2am:
Mdm Rosalina injured her right eye after falling off the bed at her employer's house while asleep. 1 week later, her right eye was swollen, and she was unable to open her eye. Mdm Rosalina wanted to seek treatment as the pain was unbearable however, her employer allegedly did not allow her to seek treatment.
18th of December 2019:
12 days after injuring her right eye, she finally sought treatment at the nearest clinic as the pain was unbearable and she was suffering from poor vision. She was given a referral to a government hospital and was advised to seek treatment as soon as possible. Mdm Rosalina informed us that she was scolded by her employer for seeing a doctor and after pleading her employer to send her to the hospital, she was sent to the eye centre.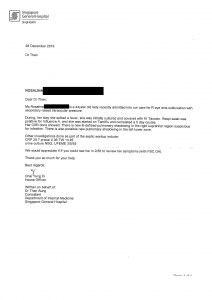 19th of December 2019:
At the eye centre she was also found to be suffering from Influenza as her fever was high. She was warded at the hospital to treat her Influenza and to urgently relieve the pressure from her eye. Doctors were unable to operate on her right eye as they had to treat her influenza first.
20th of December 2019:
Mdm Rosalina informed us that her employer started the process to terminate her work permit.
26th of December 2019:
She was discharged from hospital and the hospitalisation fees were S$7,000, which was fully covered by her insurance. She still has S$8,000 left in her insurance. As her employment was terminated, she stayed at a shelter.
31st December 2019:
Mdm Rosalina was informed that the eye surgery would cost S$8,000 which could have been fully covered by her insurance. However, as her work permit was terminated, she could no longer afford the surgery.
7th January 2020, 7pm:
Mdm Rosalina returned home as her employer had booked the ticket for her.
Mdm Rosalina tearfully informed us that she has worked for her employer for 3 years and 4 months and never expected to be treated this unfairly especially when her insurance would have fully covered the cost of her eye surgery. She feels extremely grieved to be treated so unjustly and to be cruelly robbed of her chance for recovery. Her doctors have informed her that she has to do surgery on her right eye or risk being blind. She is now unable to see from her right eye.
To further add to her difficult circumstances, her home was destroyed when Typhoon Phanfone battered her village on Christmas Day 2019. She tearfully informs us that she no longer has a permanent roof over her head and is temporarily staying with her sister.
Give Hope – Help Needed
Ray of Hope would like to raise S$3,000 to defray the cost of the operation in the Philippines. Please help Mdm Rosalina to regain back her eyesight and give her hope especially after suffering from injustice!
* Mdm Rosalina informed us that she has sought assistance from MOM. An officer from MOM spoke to her employer to allow her to undergo an eye operation and initially her employer agreed. However, after finding out the next day that her insurance was cancelled due to the termination of the work permit, her employer bought a flight ticket home for Mdm Rosalina instead.
A
Anonymous
Donated
S$

100.00
January 24, 2020
I pray that your eye will be healed.
No updates on this campaign yet