"We got cheated of our last money that we had. It was so difficult for us to survive after that as we did not have any money. We could not even pay the bills"
Campaign started on 17/03/2020
S$

100.00
Raised of S$1,000.00
32

Days to go

10%

Completed
Campaign Story
Mdm Shikin*, 28 years old, is a mother to 4 children who are between the ages of 2 years old to 13 years old. Her husband, 29 years old is the sole breadwinner working as a logistics officer earning a salary of S$1,600 nett. Her youngest daughter who is 2 years old, suffers from bronchiolitis and Respiratory Syncytial Virus which affects the toddler's nose, throat and lungs. Mdm Shikin informs us that she had a difficult pregnancy and because her youngest daughter was frequently ill, she has been unable to work.
Mdm Shikin used to work as a therapy assistant but was terminated more than 2 years ago when she became pregnant with her youngest daughter. Due to the drop in income, and having to survive solely on her husband's salary, the couple took on a bank loan in order to supplement the household expenditures. They try their best to repay back the bank on time however, in the process, they have incurred arrears with SP and Town Council and had difficulties buying milk powder and diapers.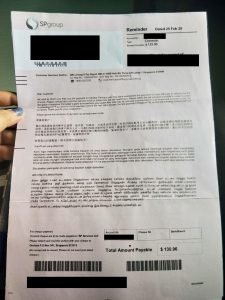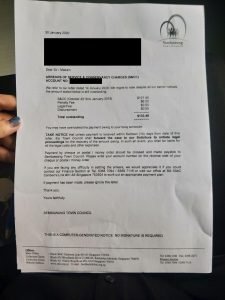 In the beginning of this year, the couple decided to be under the Debt Repayment Scheme (DRS) as it would lower the amount that they have to pay the bank and this in turn, would help ease their current financial stressors. The process can be complicated as it involves negotiations with the bank, the couple decided to enlist the help of a company that specialises in the Debt Repayment Scheme.  Mdm Shikin informs us that the fee they had to pay was S$3,900 which includes lawyer fees, processing and admin fee. As they did not have the money, they decided to take a loan from a licensed moneylender.
They were informed that they have to place a deposit of S$1,000 before their application of S$3,900 would be approved. Mdm Shikin informs us that after placing the deposit the moneylenders were uncontactable and their S$1,000 deposit was gone. "This was all the money that we had, and everything was gone overnight. We could not pay the bills and it was so stressful for us" Mdm Shikin told us with a resigned look on her face. A police report has been made.
Mdm Shikin has applied for SSO assistance and is actively searching for employment as her daughter's health has improved. They have incurred SP and Town Council Arrears after losing their money. Ray of Hope is raising S$1,000 (S$250 x 4 months) to ease the family's living expenses. Please give hope to the family as debts can be crippling and cause great financial stress. All the couple wanted was to reduce their debt repayment to make things more manageable for the family and now, they were cheated of their money.
*Ray of Hope used to assist the family. Mdm Shikin has applied for SSO Financial Assistance and is actively searching for employment as her daughter's health has improved. A second round of assistance was initiated as they are facing difficulties after allegedly being cheated by a moneylender.
* Name has been changed to protect the family's identity.
C
Cyndy Soh
Donated
S$

100.00
March 19, 2020
Kindness begets kindness !
No updates on this campaign yet