Family with a special needs daughter needs your help
Campaign started on 2019-06-27
$

310.00
Raised of S$2,540.00
102

Days to go

12%

Completed
Campaign Story
The Struggle
For more than 15 years, Mdm Siti has been struggling both financially and emotionally as a single mum. But no matter, how bleak the future might have been, the 45-year-old harboured hopes that her life would take a turn for the better someday.
It was not an easy decision for Mdm Siti to step out of an unhappy marriage and to bring up her children on her own before she got married to her current husband. When the case workers met her, she recounted how her ex-husband has allegedly defaulted close to $32,000 of maintenance due to her even with court order, and how it took a toll on her emotionally which in turn affected her health as well. Mdm Siti went through an emotional turmoil before meeting her current husband.
Mdm Siti's husband who suffers from heart issues, has recently started work as a part-time security guard less than a week ago and has yet to receive his first pay. His expected gross salary is $1,240. He was previously working as an airplane repair until he collapsed due to chest pains early this year. Mdm Siti is currently not working due to the frequent numbness that she experiences on both her hands. She told us that she used to work as a screening officer with a basic salary of $1,300. Barely three months into her work, the pain caused by her nerve issues resulted in her employment coming to a halt when she had to be hospitalized for her condition. On top of that, Mdm Siti also suffers from heart issues, diabetes and bilateral frozen shoulders.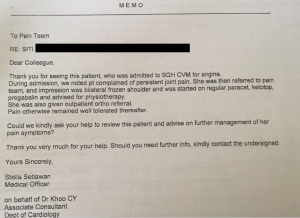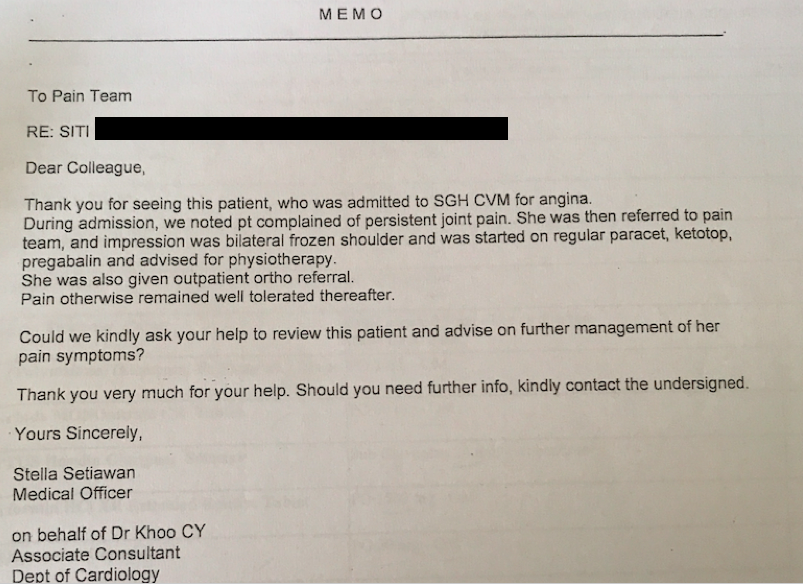 Giving Hope to a resilient mum
Mdm Siti has two children from her first marriage. Her 20-year-old son is currently serving National Service, while her 17-year old daughter Alysya was diagnosed with Femoral-Facial Syndrome, which is a rare congenital disorder resulting in underdeveloped thigh bones. The past years have been daunting for Mdm Siti, having gone through countless rejections from mainstream schools for Alysya's admissions as a result of her medical conditions, to exhausting her means to make ends meet each month. Mdm Siti has a 9-year-old daughter with her current husband, who is schooling in a primary school now.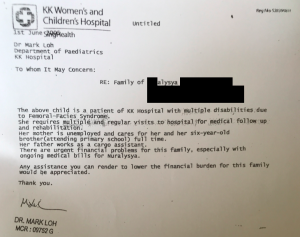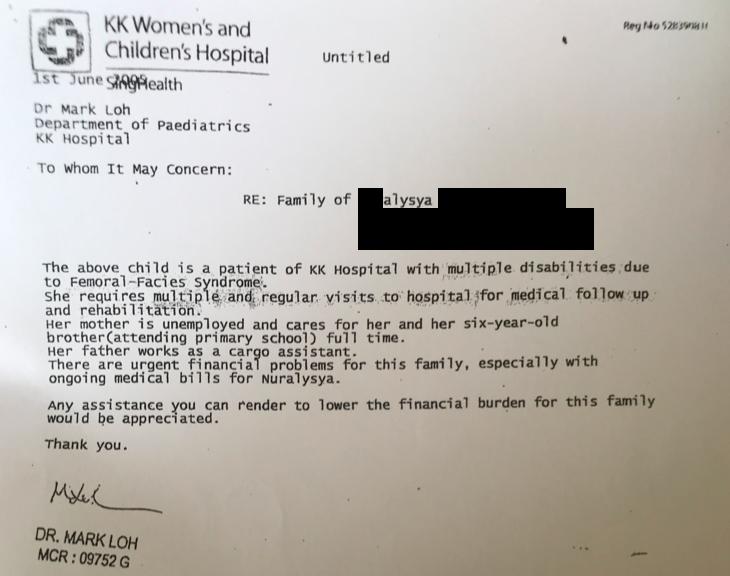 Mdm Siti confided in us that she deeply regrets having given up on the follow-up review appointments for Alysya since more than 7 years ago due to her financial constraints back then. Alysya is currently enrolled in a special needs school. Alysya was previously placed in a Food & Beverage restaurant as well as a laundry shop, but she was unable to continue working as she was struggling due to her physical limitations. However, Mdm Siti is worried about the progression pathway for her daughter who will turn 18 next year, as she will need to be placed for employment then.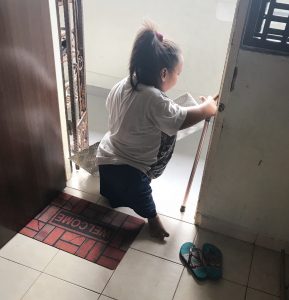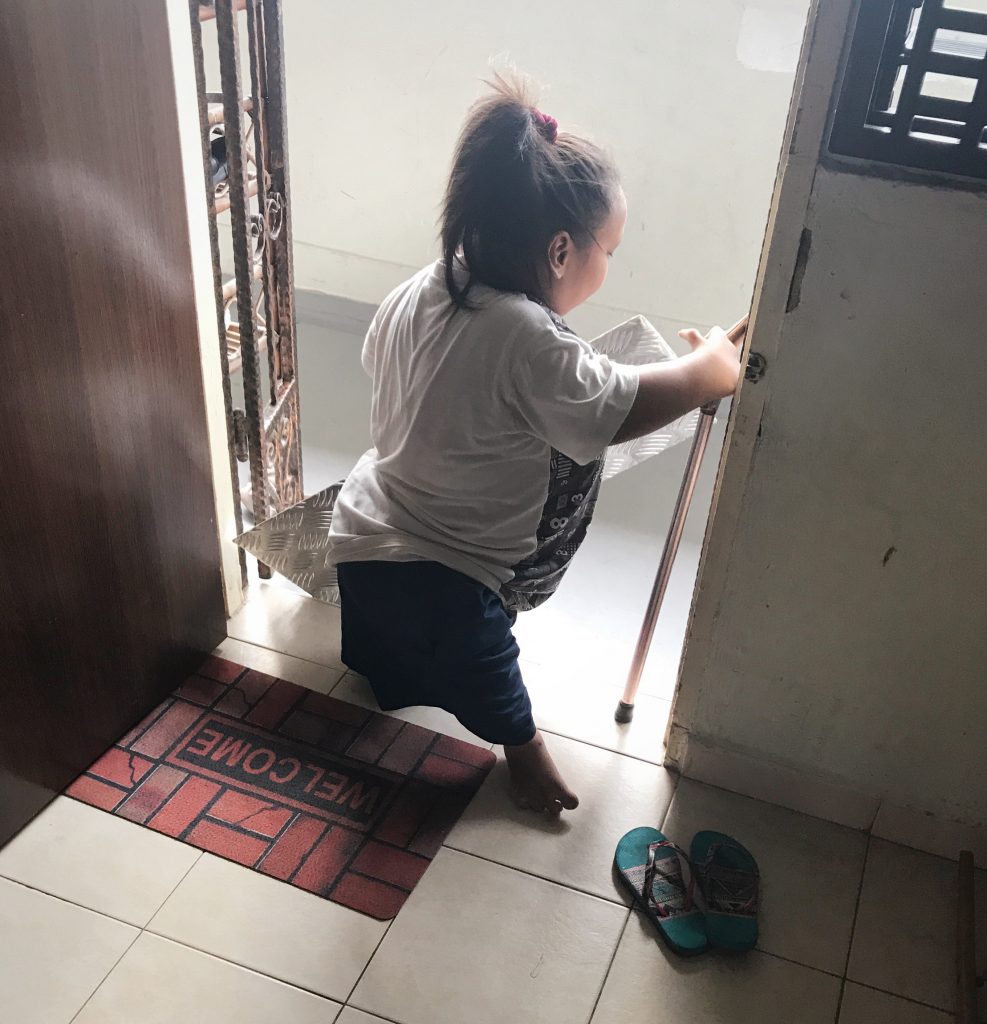 Financial Breakdown
Mdm Siti has requested for assistance on getting a new washing machine and fridge as their current one has broken down. Ray of Hope would like to raise $2,540 for the following:
One-time purchase:
Washing machine $280
Fridge $410
Monthly assistance:
Children's transport fees $400 ($80 x 5 months)
Children's school allowances $700 ($140 x 5 months)
Groceries $750 ($150 x 5 months)
It is not easy being the caregiver for a special needs child along with two other children while struggling with health issues, but the amount of love Mdm Siti shows for them touched our hearts and we believe she can do it with your kind donations!
*SSO was previously assisting Mdm Siti with her rent, town council and utilities payments. However, her assistance is ending in July. Her MUIS assistance also ended in May'19.
A
Anonymous
Donated
$

10.00
July 19, 2019
A
Anonymous
Donated
$

50.00
July 08, 2019
I
Ida Norayu Buang
Donated
$

50.00
July 04, 2019
May Allah ease your affairs ***heart***
L
Layminto Jubilee
Donated
$

200.00
June 27, 2019
Dear Madam Siti, May God bless you.