Help a struggling and injured single mother
Campaign started on 2019-08-26
S$

50.00
Raised of S$400.00
6

Days to go

13%

Completed
Campaign Story
Background
Mdm Masturah*, 38 years old, is a single mother to 3 young children between the ages of 5-7 years old. She fled her marital home with her 3 children at the end of August 2018 in order to give her children a better life after many years of physical abuse by her estranged husband. Throughout their marriage her husband also had extra marital affairs. She has since returned back to her flat in March this year with her 3 children after managing to secure PPO and Domestic Exclusion Order against him. She is currently undergoing divorce proceedings. Her estranged husband only sees his children once a month under supervision and he does not provide for them financially.
The Struggle
It has been a struggle for Mdm Masturah being a single mother without a steady income caring for 3 young children. She understands the importance of work and having a steady income and was preparing to enter the workforce in April this year and was sending out resumes. However, on the 3rd of April 2019, she encountered an accident and suffered a severe fracture on her right foot. She broke almost all of her bones on her feet and was hospitalized for 11 days. Her recovery was initially expected to be approximately 6 months however, due to the severity of her fracture, she is now expected to recover by the end of the year.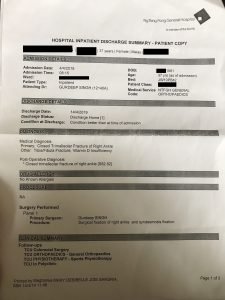 Despite still being on a cast, Mdm Masturah has recently been applying for employment. She managed to secure a job interview however, she was rejected for the office position due to being medically unfit. Even though Mdm Masturah wishes to work as it will provide a steady income for her and her children, no employers will hire her while she is still medically unfit for work.
It has been an extremely difficult journey for the resilient single mother. Despite nursing a severe foot injury, she still manages to cook for her children, supervise their home works and ensure that they go to school on time.
Give Hope – Help Needed
Ray of Hope recently fundraised S$1,000 (S$200 x 5 months) to defray her living expenses. The assistance is due to end in October this year. She requires an additional S$400 (S$200 x 2 months) to assist her until December 2019 while she fully recuperates and is then able to enter the workforce.
Ray of Hope is therefore raising another S$400 (S$200 x 2 months). Please give hope to the resilient and strong single mother. It has not been easy for her having to care for 3 young children single handedly while nursing a severe foot fracture. No amount is too little so please help the family out!    
*Name has been changed to protect the identity of Mdm Masturah as she is under PPO.
* Mdm Masturah is receiving government financial assistance 
A
Anonymous
Donated
S$

20.00
September 03, 2019
J
J A
Donated
S$

20.00
September 01, 2019
Keep your head up and don't give up.
A
Anonymous
Donated
S$

10.00
August 28, 2019