73-year-old caregiver & 83-year-old stroke patient need your help!
Campaign started on 30/07/2019
S$

1,830.00
Raised of S$1,800.00
0

Days to go

100%

Completed
Campaign Story
*Double your giving this December! Every dollar donated to our campaigns will be matched dollar-for-dollar this December!*
The Struggle
Madam Florence, 73 years old, has been the caregiver for her husband (Mr Chua) ever since the onset of his stroke more than 20 years ago. Mr Chua, 83 years old, was a former draughtsman and a badminton player when he was well and was working to support the family. Since his stroke, Mr Chua was certified permanently disabled and medically unfit for employment, and this was a huge blow to him. When the case workers met Madam Florence, she recalled and shared with us the numerous incidents when he tried to attempt suicide as he was unable to deal with the huge blow of suffering from stroke.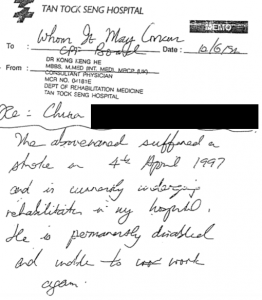 Since Mr Chua stopped working more than 20 years ago due to his ailing health, Madam Florence has been desperately seeking assistance. Madam Florence and Mr Chua have 4 children and are currently staying in the HDB flat, paid for by their children. However, they are unable to support Madam Florence and Mr Chua in terms of their daily living expenses after paying for the house mortgage, utilities, phone bills as well as for a helper who is helping to take care of Mr Chua. Over the months, Madam Florence has exhausted her means – from applying for public assistance to street busking until she was asked to leave by the building management. Since she was asked to leave, Madam Florence has stopped busking on the streets.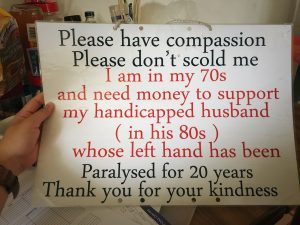 Medical conditions
Besides stroke, Mr Chua also suffers from severe eczema every night, as well as diabetes, high blood pressure and is currently on soft diet. Over the years, the caregiving duties for Mr Chua has also taken a toll on Madam Florence's health as she also diabetes and hypertension and underwent a knee replacement surgery back in 2006.
Financial Breakdown
Ray of Hope would like to raise $1,800 ($300 x 6 months) for Madam Florence and Mr Chua's groceries expenses. NTUC vouchers will be purchased for them. Your donations will give a helpless caregiver and her bedridden husband some encouragement and the hope to fight another day in their lives!
*Madam Florence is currently receiving some assistance from a foundation.
January 21, 2020

5th disbursement & funds raised for Chinese New Year

The case workers met Aunty Florence yesterday for her disbursement. Ray of Hope has also raised an additional $200 for her family for CNY. The elderly is thankful that while things remain financially straining at home due to her unemployment, the donations that came in have been handy in helping to defray the groceries expenses at home, especially when her children are based overseas and do not visit her frequently. Aunty Florence told us that she looks forward to her children's return this new ...

Read More

December 18, 2019

4th disbursement

Aunty Florence has received her NTUC vouchers for the month of November. Thank you donors!

November 30, 2019

3rd Disbursement

Aunty Florence has received her NTUC vouchers for the month of October. Thank you donors!

October 23, 2019

2nd disbursement

Aunty Florence has received the NTUC vouchers for her 2nd disbursement. The elderly is grateful for the assistance that has helped defray the groceries expenses for the family. With the NTUC vouchers, the couple was able to purchase the items that they require. Thank you donors!

September 13, 2019

1st disbursement

The case workers met Aunty Florence to disburse the first round of NTUC vouchers worth $300. We understand from her that she has recently been unwell for quite a while, but have gone to seek treatment at a TCM clinic. She is thankful for the vouchers which will help defray the family's groceries expenses.
Donated
S$

140.00
December 09, 2019
A
Anonymous
Donated
S$

140.00
December 03, 2019
A
Anonymous
Donated
S$

100.00
November 26, 2019
K
Kenneth Kan
Donated
S$

150.00
September 15, 2019
Donated
S$

90.00
August 26, 2019
A
Anonymous
Donated
S$

1,000.00
September 01, 2019
A
Anonymous
Donated
S$

10.00
August 21, 2019
P
Pei Sze Goh
Donated
S$

100.00
August 06, 2019
A
Anonymous
Donated
S$

100.00
August 06, 2019
Take care Mr Chua and Mdm Florence!! Ellie the black Cat & Carl the pink rabbrits