Family of 8 with a special needs son needs your help!
Campaign started on 07/10/2019
S$

1,900.00
Raised of S$1,900.00
0

Days to go

100%

Completed
Campaign Story
The Struggle
The physical and emotional task of caring for a special needs child can be one with no end in sight. Mdm Imah, 29 years old, is a resilient mother of 6 children (9, 7,6, 3 and 2), including a pair of 6-year-old twins. One of her twins was unfortunately diagnosed with multiple chronic medical conditions including Osteogenesis Imperfecta Type 1 (brittle bone disease), chronic lung disease, Gastro-Intestinal Reflux, brainstem dysfunctional and is permanently on tube feeding. He is currently unable to be discharged due to the extend of required caregiving duties in view of his multiple conditions.
Although the child is receiving full subsidies for his hospital stay, Mdm Imah told us that it pains her that her child is unable to return home anytime soon to be with his siblings. Due to her extensive caregiving duties, she is only able to visit him fortnightly when the rest of his siblings are well and schooling.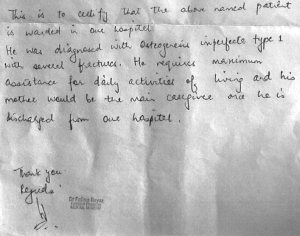 Help Needed – Give Hope
While Mdm Imah focuses on her caregiving role for her young school-going children, her husband, 31 years old, works hard to bring the bacon home. Mdm Imah's husband has recently switched to work as a full-time security officer a month ago, and earns only around $940 nett. With the confirmation of his position when his 3-month probation is up, he is likely to receive a doubled nett salary of $1,880. Although their children's school fees are fully covered under the Financial Assistance Scheme (FAS) and they are receiving the School Pocket Money Fund for their transport and pocket money allowances, the assistance is insufficient as they often have extra-curriculum classes in school and Mdm Imah could only afford to give them $2 a day.
When the case workers met Mdm Imah's family, the proud mum told us that despite often going hungry in school, her kids would always make it a point to save up a dollar everyday, just so that their parents can use their savings in case of rainy days. While Mdm Imah and her husband feels comforted at how sensible their children are, they feel extremely apologetic for not being able to provide their children with the best although their kids often tell them that they are happy and contented with what they have now and do not demand for toys or stationery.
Financial Breakdown
Ray of Hope would like to help Mdm Imah's family by raising $1,900 ($380 x 5 months) for her children's pocket money allowances ($80) and the family's groceries expenses ($300). Your donations can give hope to a struggling family of 8!
November 3, 2020

4th disbursement

Mdm Imah updated us that she has used the funds from her recent disbursement for her children's expenses as well as for the family's groceries. The family is thankful that while the employment of Mdm Imah's husband remains unstable, the donations have allowed them to pay of some of their…

Read More

January 31, 2020

3rd Disbursement

Mdm Imah has received her third disbursements from Ray of Hope and wishes to thank the donors for their help!

December 30, 2019

2nd disbursement

Mdm Imah has received the funds for her 2nd disbursement via bank transfer. The case workers will provide more updates soon after they visit her.

November 30, 2019

1st disbursement

The case workers visited Mdm Imah for her first disbursement recently, and was told that the funds had come in handy for the couple on their children's school expenses, especially during this period when the employment of Mdm Imah's husband has been unstable. Mdm Imah is immensely grateful to the…

Read More
M
MEI PING LEE
Donated
S$

345.00
January 12, 2020
May the children grow up to be of good success and fulfil their purpose in life
T
Tai Hwa Ng
Donated
S$

5.00
January 11, 2020
Donated
S$

400.00
December 09, 2019
A
Anonymous
Donated
S$

400.00
December 08, 2019
A
Anonymous
Donated
S$

50.00
November 16, 2019
K
Karen Oh
Donated
S$

200.00
November 02, 2019
J
Ju Hock Tan
Donated
S$

500.00
October 20, 2019