Fund his dream and give him hope
Campaign started on 22/07/2019
S$

2,880.00
Raised of S$5,000.00
0

Days to go

58%

Completed
Campaign Story
*Double your giving this December! Every dollar donated to our campaigns will be matched dollar-for-dollar this December!*
"I have been selling tissues for many years and I dream that one day I'll be able to do something different. It may not be possible to do this right now but I believe, in time, I will be able to do something that I enjoy more. I give thanks for every step of progress I make because my challenges are so numerous. Even when I wanted to open a bank account to keep my meagre savings, I found that it is not possible for me to open one as I cannot provide a signature. They told me that they cannot accept a thumbprint. I keep encountering hurdles at every turn, but in my everyday life, I have joy, sadness and excitement, and my belief in God sustains me and gives me strength each day." – Wesley Wee, 40.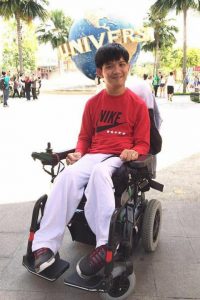 The Struggle
Wesley, 40 years old, has a condition called cerebral palsy. This has affected his ability to control his muscles including those in his trunk, limbs and throat. His ability to walk or use his hands effectively have both been hindered by the condition, and everyday tasks that others can do with ease are difficult or sometimes even impossible for Wesley to do unaided. The spasticity in his throat muscles also makes him very difficult to understand.
Fund his dream and give him hope
Growing up, Wesley was physically, verbally and emotionally abused from childhood up to his teenage years by his biological parents. His parents were embarrassed by his condition and deprived him of his ability to eat, bathe and go to the toilet himself.
After a surgical procedure when he was 7, Wesley completely lost the ability to walk. Since then, he relies fully on his wheelchair to get around.
Despite his physical disability, Wesley has a strong desire to be successful in life. Wesley has come a long way in pursuit of happiness in his life. He is now blissfully married to his 49-year-old wife, Lorena, yet he is still encountering countless hurdles at every stage in his life.
In spite of all this, Wesley counts his blessings, finding respite in little things.
Wesley attained his license to be a street hawker in 2010 and has since been selling tissue along Orchard Road to sustain his living. However, on good days when he is feeling alright, he gets to work 5 days a week, 3 hours on each day. He then gets to bring home his earnings of less than $1,000, only to be worried about when their next meal will come after the money is spent on his medical expenses.
The 40-year-old had a dream of publishing a book to tell his story. For three to four hours each night, Wesley would type laboriously on his iPad with his big toe. It took him five years of perseverance to complete a book, but Wesley completed the book, Finding Happiness Against The Odds two years back in 2017. The self-published book was one about Wesley's struggles with cerebral palsy as a child, his failed suicide attempts and how he turned his life around. Since the launch of his book in 2017, Wesley still has unsold copies of his books and hopes to sell them for his living expenses.
Financial Breakdown
Ray of Hope would like to support Wesley by helping him raise $5,000 for the sale of 250 copies of his Chinese-translated book ($20 per copy) so that the funds can be used for Wesley and Lorena's living expenses.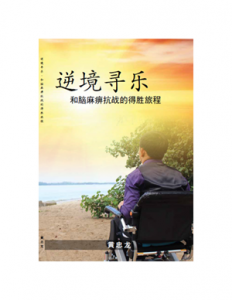 *By donating, you agree to giving consent to Ray of Hope contacting you for the collection of the book.
Other crowdfunding campaigns:
https://give.asia/campaign/help_wesley_publish_his_book
https://give.asia/campaign/the_true_me_-_help_wesley_publish_his_book
https://give.asia/campaign/my_name_is_wesley_please_help_me
September 25, 2019

1st disbursement

We recently met Wesley and Lorena to disburse the $2,600 raised so far to them! The couple was immensely grateful for this sum which would help defray their medical and living arrears. Wesley told us that he feels encouraged by the sale of his books and wishes to thank the…

Read More
Donated
S$

80.00
December 26, 2019
A
Anonymous
Donated
S$

80.00
December 24, 2019
J
Joel Odazzit
Donated
S$

20.00
November 04, 2019
Keep the fight and stay strong
K
Karen Oh
Donated
S$

100.00
November 02, 2019
Jia you Wesley! My best wishes ♡♡♡
A
Anonymous
Donated
S$

100.00
August 13, 2019
Continue to trust in the Lord. :)
L
Lester Heng
Donated
S$

100.00
August 11, 2019
You are much tougher than we are and will ever be. You have our admiration. Stay tough! With Love, Lester Heng & Kelly Loh
R
Richard Ho
Donated
S$

200.00
August 03, 2019
May God shower his blessings on you.
j
joyce tan
Donated
S$

200.00
August 02, 2019
m
michael soon
Donated
S$

2,000.00
July 26, 2019