Give Hope and Support to Hashik who recently lost his mum to illness
Campaign started on 26/06/2020
S$

397.00
Raised of S$3,150.00
138

Days to go

13%

Completed
Campaign Story
Give Hope and Support to Hashik who recently lost his mum to illness 
Hashik has been the caregiver to his 85 year old mum who has been battling with multiple chronic illnesses including severe dementia, chronic renal failure, heart disease, hypertension, atrial fibrillation, hyperlipidemia, anemia and diabetes. The 45 year old divorced who was working as an aircon technician gave up on his employment and became a full-time caregiver since the onset of his mum's stroke two years ago. Hashik has two older siblings. His eldest brother is incarcerated and his second brother is also supporting his daughter.
Although Hashik's mum was receiving support from SSO, Hashik was in a dilemma when it came to seeking employment due to the severity of his mum's dementia, which had led to frequent acts of violence. Ever since he stopped work, Hashik has been relying on his savings to pay for the household bills. However, his savings have depleted over the years.
The past week has been a rough one emotionally as Hashik tries to pick himself up from the pain of losing his loved one. Ray of Hope would like to raise $3,150 to help Hashik with his mum's funeral costs ($1,650) which he has borrowed from friends and relatives, as well as 3 months of living expenses ($500 x 3 months) as he tries to get a job to support himself moving forward.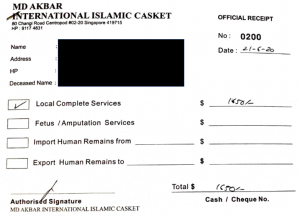 A
Anonymous
Donated
S$

3.00
July 12, 2020
A
Anonymous
Donated
S$

30.00
July 10, 2020
S
Si Xiang Lim
Donated
S$

30.00
July 07, 2020
A
Anonymous
Donated
S$

20.00
July 06, 2020
S
Sakura Samsudin
Donated
S$

200.00
July 06, 2020
Fardhu Kifayah.....lets donate
A
Anonymous
Donated
S$

64.00
July 03, 2020
A
Anonymous
Donated
S$

25.00
July 01, 2020
A
Anonymous
Donated
S$

25.00
June 27, 2020
No updates on this campaign yet