Help an isolated and injured elderly get better
Campaign started on 2019-10-11
S$

1,800.00
Raised of S$1,800.00
8

Days to go

100%

Completed
Campaign Story
Background
Mdm Liang*, is a 70-year-old elderly who is living alone with no family support. Her husband passed away in the middle of last year due to kidney failure and the couple have no children. Mdm Liang herself has no siblings and is not in contact with her relatives. Mdm Liang suffers from high blood pressure, high cholesterol and a weak kidney which causes protein to pass through when she urinates. In July this year, she had a fall in her room, and both her are ankles are still swollen up till today, which causes her significant pain when she walks. Due to her swollen ankles, she is mostly confined to her room and rarely goes out except for medical appointments.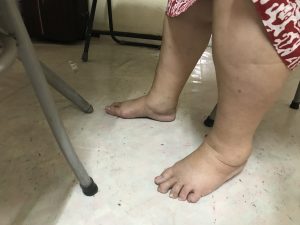 The Struggle
Mdm Liang has not had an easy life. Her husband was a compulsive gambler who never held proper employment and owned huge sums of money to multiple licensed and unlicensed moneylenders. In order to settle her husband's gambling debts and to stop the constant harassment by moneylenders, the couple sold their 3-room flat with the proceeds of the flat going towards settling her late husband's debts.
Mdm Liang used to work as a telephone operator for a taxi company and with her low salary she supported herself and her late husband. After selling their flat, the couple stayed in a rental room as Mdm Liang could not afford the purchase of a second flat with her single income. Till this day, Mdm Liang continues to stay in the rental room.
Mdm Liang is surviving on her CPF payout of less than S$550 per month and the amount is insufficient for her daily needs. Due to the fall, Mdm Liang has to go for physiotherapy 3-4 times a week to aid in her recovery and she has difficulties paying for the physiotherapy even though it is heavily subsidized.
Help Needed – Give Hope
Ray of Hope would like to raise S$1,800 (S$150 x 12 months) to defray Mdm Liang's physiotherapy and living expenses for 12 months. Mdm Liang is living alone with no family support so please give hope to Mdm Liang so that she may finally fully recover!
* Mdm Liang is not receiving government financial assistance
* Name has been changed to protect her identity
Donated
S$

1,200.00
November 15, 2019
J
Ju Hock Tan
Donated
S$

500.00
October 20, 2019
J
Jeanette Cheong
Donated
S$

100.00
October 18, 2019