Help Mdm Anisah take care of her 5 children
Campaign started on 02/07/2019
S$

1,070.00
Raised of S$2,250.00
0

Days to go

48%

Completed
Campaign Story
The Struggle
37-year-old Mdm Anisah and her husband have never stopped giving their best since their first child was born. The loving couple has 5 children, ages 11, 9, 8, 3 and 1 month old. Unfortunately for them, their 9-year-old son Aniq was fully diagnosed with autism, epilepsy and intellectual disability at the age of 6.
Aniq is currently enrolled in a special needs school, and he receives up to 90% subsidy for his school fees and transport expenses. Mdm Anisah's other four children are also recipients of the Financial Assistance Scheme (FAS) and their school fees are fully covered. In spite of this, their assistance from the Social Service Office (SSO) ended in June and will take between 4-8 weeks for renewal. Mdm Anisah has told us that she feels disheartened; after having gone through numerous rounds of interviews for the renewal of assistance as she has been repeatedly told that she needs to return to work before the assistance can be renewed. Mdm Anisah has also been certified by the hospital to be Aniq's main caregiver due to his medical conditions.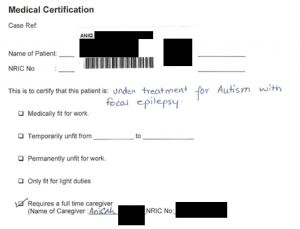 Help Needed – Give Hope
Both Mdm Anisah and her husband were originally both working to support the family. However, as Mdm Anisah only gave birth in end May, she is currently unable to work as she is still recuperating from her surgery. As such, the family is now relying solely on her husband's income as a private hire driver to get by. While the couple understands that his job may not mean a stable income, they are still thankful for the flexible hours and weekly earnings that the job has to offer, but due to his caregiving duties for the children, he must work shorter hours, and because of this his income has been reduced to only about $1,000 a month. Mdm Anisah confided in us that they have been desperately seeking any form of assistance as the household income is simply insufficient for the household of 8. The family is also struggling to pay off arrears owed to various agencies amounting to around $8,500.
Mdm Anisah told us that while she is grateful for the strong emotional support from her spouse, but she is worried that he won't be able to handle the mental stress that he goes through daily especially when he doesn't get ample rest. Mdm Anisah hopes to get well soon so that she can return to work to share the financial load with her husband when their baby is enrolled in infant care.
Financial Breakdown
Ray of Hope would like to support the resilient couple by raising $2,250 ($450 x 5 months) to partially cover their groceries expenses ($250 per month), as well as milk and diapers expenses ($200 per month). Your donations would greatly help a family struggling to get by!
December 3, 2019

2nd disbursement

Mdm Anisah has received the funds of $450 for her family. The funds have come in helpful for the family's groceries and to cover the children's expenses for school. During this period, some kind sponsors have also sent some food ration, milk and diapers to Mdm Anisah. Thank you donors for giving hope to Mdm Anisah!

August 27, 2019

1st disbursement made to Mdm Anisah

Mdm Anisah is grateful to have received the funds for this month. She confided in us that the past few months have not been easy as she is the main caregiver of the 5 children as well as her elderly mum. She is thankful for her husband's support as he is also trying his best to clock more hours to increase his earnings. She also updated us that the family has since downgraded their phone plans recently to save costs. Thank you donors for giving hope to Mdm Anisah and her family!
A
Anonymous
Donated
S$

50.00
November 13, 2019
A
Anonymous
Donated
S$

160.00
November 13, 2019
A
Anonymous
Donated
S$

10.00
November 12, 2019
D
David Connor
Donated
S$

200.00
November 06, 2019
K
Karen Oh
Donated
S$

200.00
November 02, 2019
My best wishes to you and your family! Stay strong ♡♡♡
Donated
S$

300.00
August 14, 2019
B
Bryan Tan
Donated
S$

50.00
July 18, 2019
K
Keith Tang
Donated
S$

100.00
July 08, 2019
Take care of your own health first