Help Mdm Nur and her son start their lives afresh
Campaign started on 2019-12-06
S$

550.00
Raised of S$2,200.00
93

Days to go

25%

Completed
Campaign Story
The Struggle
Mdm Nur, 27 years old, has come a long way even before her 6-year-old son was born. The single mum had her son out of wedlock. Her partner, who is a non-Singaporean, turned physically abusive towards Mdm Nur even when she was due to give birth. He allegedly also restricted her family from visiting her and even went to the extend of relocating her to cut off her contact from her family. Mdm Nur was also hospitalised for a week and out of desperation to escape from his abuse, Mdm Nur opted for induced labour so that she would not be left alone at home with him.
The constant abuse continued until Mdm Nur decided to the leave with her son and the rental flat that they were staying in. Unfortunately, Mdm Nur's partner was awarded joint custody of the boy although he has not been doing his part to support the child.
Mdm Nur was working as a part-time cashier from 2009 to 2012 before her son was born. Since then, she has been the main caregiver to her son and was only relying on the financial support fro the Social Service Office (SSO) that is ending in December. Out of the $700 that she receives from SSO, $400 is paid to the lawyer who is fighting for her case as Mdm Nur does not wish to lose the custody of her son who suffers from multiple medical conditions including severe eczema, bronchitis, asthma, lymph nodes. He is now also suspected of dyslexia and has been referred to the Dyslexia Association of Singapore for further assessment.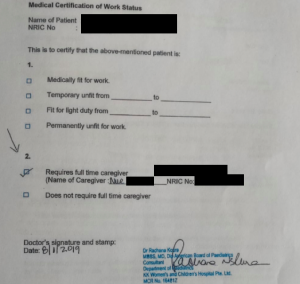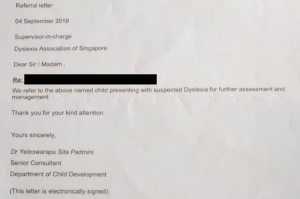 Help Needed – Give Hope
Growing up, Mdm Nur had watched how her mum, was constantly left at the mercy of her dad's abusive behaviour. Mdm Nur now has a strong desire to protect her family and loved ones from harm and danger, and would do her best to fight for the best for her family. Having suffered from the abuse from her partner, Mdm Nur is determined to start afresh with her son and hopes to provide her son with what he needs, to the best that she could afford financially. She has also since applied for a new rental flat with her son. The reality is, a new home also comes with a huge sum of expenses that she now needs to work on saving up for. Mdm Nur confided in us that while she is trying her best to source for assistance within the community, she is worried about her son's expenses especially when they are saving up to move into their new flat.
Even when she was slapped with the harsh reality of being left with just $2 in her bank account, Mdm Nur never once thought of giving up. In spite of all that she is facing, Mdm Nur counts her blessings and finds respite in little things. She enjoys spending time with her 6 year old son at the playground every other evenings, just to put her worries aside momentarily. Mdm Nur is currently staying at her sibling's house while she sorts out her finances. Mdm Nur, who is ranked the third among her other siblings, is thankful for her family's support although each of them are facing struggles in their own lives.
Mdm Nur hopes to return to the workforce after her son is enrolled in Primary School. As the father of her son was granted joint custody of the child, he has not been cooperative in the enrolment for his son. Although the boy has been accepted into a primary school, the paperworks have not been completed as the father had refused to give his consent unless Mdm Nur gives in to his unreasonable requests and demands.
Financial Breakdown
As such, Ray of Hope would like to support Mdm Nur by helping her raise $2,200 for her son's milk powder, diapers and other medications that he requires which are not covered by Medisave. 
*Mdm Nur's public assistance ends in December 2019.
A
Anonymous
Donated
S$

50.00
January 18, 2020
A
Anonymous
Donated
S$

50.00
January 18, 2020
Donated
S$

25.00
December 17, 2019
A
Anonymous
Donated
S$

25.00
December 15, 2019
Donated
S$

200.00
December 12, 2019
A
Audrey Leow
Donated
S$

200.00
December 10, 2019
No updates on this campaign yet