"I would just drink water when I do not get enough to eat"
Campaign started on 20/08/2019
S$

1,121.65
Raised of S$1,121.75
0

Days to go

100%

Completed
Campaign Story
*Double your giving this December! Every dollar donated to our campaigns will be matched dollar-for-dollar this December!*
"I am thankful when kind souls offer me food… I would just drink water when I do not get enough to eat. I find it pointless to receive treatment when I can't even afford my meals…" – Krishnan, 61.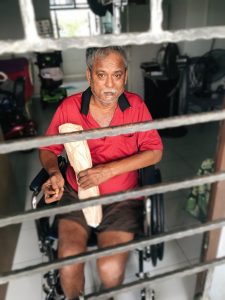 Most of us strive to work hard so that we can provide for our family and loved ones. We own homes to call our own, and we get to enjoy the company of our family and loved ones in the comfort of our homes.
Yet, there is the most vulnerable group within our community – group of needy elderly who are struggling with their basic needs, with minimal or no family support. These elderly were once able-bodied and able to support themselves like us, but are now fighting for their place in our society. Often, they struggle with chronic illnesses and mobility issues, and have no means to continue working to support themselves. One of such cases is 61-year-old Krishnan. 
Help Needed – Give Hope
The 61-year-old used to be a healthy individual and worked as a cleaner to support himself. Since the onset of stroke in 2014, his mobility has been adversely affected and he is now wheelchair-bound. Krishnan is staying in the 1-room rental flat where he stayed with his brother before his brother passed away. Krishnan is the youngest in the family, but he has lost his 9 older siblings in the last few years.
Krishnan has also lost touch with his estranged children since his divorce many years back. With no immediate family members to rely on, Krishnan has turned to public assistance for his living expenses in order to make ends meet.
Financial Breakdown
Ray of Hope would like to raise $1,121.65 for Krishnan's living expenses ($150 x 5 months) and his medical arrears ($371.65). Payment will be made to the hospital directly.
Your giving may not immediately eradicate his poverty, but by showing that we care, it will give him some encouragement and the hope to fight another day in his life!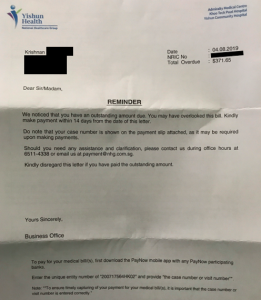 *Krishnan is currently receiving his meals on weekdays (excluding weekends) via meals-on-wheels and minimal public assistance.
September 13, 2019

First disbursement made

Mr Krishnan has received his first disbursement when the case workers visited him at home today. He told us that the money will be helpful for his daily living expenses since he is unfit for employment.
M
Mdm Ong
Donated
S$

251.65
January 30, 2020
A
Anonymous
Donated
S$

100.00
December 18, 2019
I hope things go well for him soon.. stay positive always!
U
United Lifestyle Pte Ltd
Donated
S$

400.00
December 16, 2019
We pray this will help lighten your burden.
A
Anonymous
Donated
S$

10.00
December 14, 2019
No amount is too big nor too small
M
Michelle Tan
Donated
S$

50.00
November 13, 2019
A
Anonymous
Donated
S$

50.00
November 01, 2019
Please stay strong, Uncle Krishnan! Take care and God bless u
R
Roselahawati Idros
Donated
S$

20.00
October 24, 2019
S
Saraswathy Ratha
Donated
S$

10.00
September 30, 2019
I
Ibby Jacob
Donated
S$

50.00
September 29, 2019
Donated
S$

150.00
September 12, 2019
S
Saiem T
Donated
S$

30.00
August 27, 2019