IRR Bus Rides and Flyer Tickets for Migrant Workers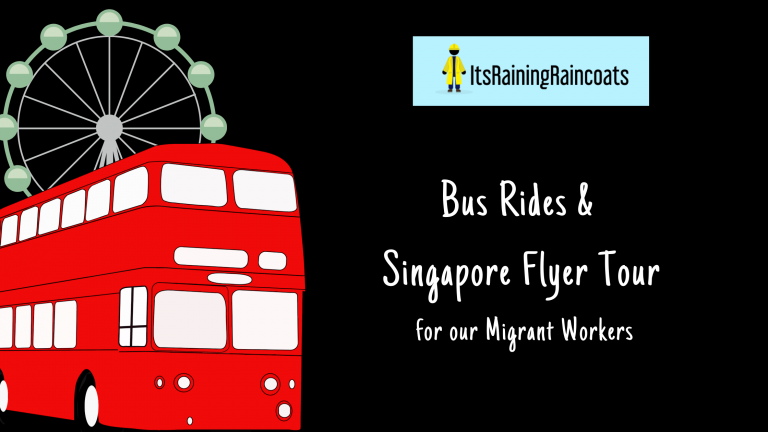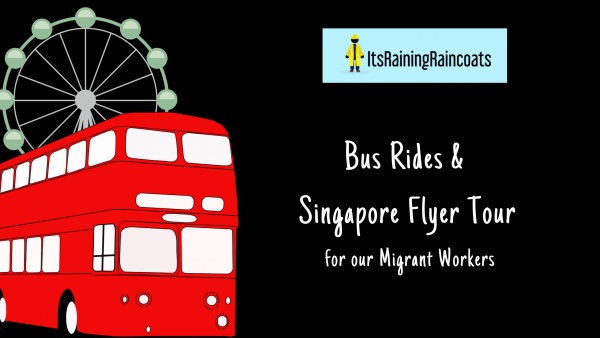 IRR Bus Rides and Flyer Tickets for Migrant Workers
---
S$

30,738.00
Raised of S$50,000.00
---
CAMPAIGN STORY
*Campaign Update*
Bus Rides and Flyer Tickets for Migrant Workers
ItsRainingRaincoats is working with MOM and others to organize a few outings for migrant workers to relieve them of the monotony of their daily existence. They have spent most of 2020 indoors, and a bus ride to some of the famous sights around Singapore is literally a breath of fresh air for the workers. This may be one of the first outings for most of the workers since the beginning of Covid-19 measures.
The buses will be planned for select weekends through the duration of the year 2021. Each bus ride is for 30-35 workers, and takes them on a small excursion around Singapore's top tourist locations. Each worker will also get a small snack and some goodies.
They will be accompanied by IRR volunteers who will interact with them and help make the ride a bit more fun.
We are also planning to take a few hundred workers on a once in a lifetime experience on the Flyer. The workers can never afford this for themselves.
We will need buses to take the workers to the Flyer and this is expected to happen at the end February/March 2021.
The original campaign was run by PIIM's alumni group for a small group of 650 workers who took bus rides through Orchard Road/Marina Bay to see the Festive Christmas Lights. The positive feedback received from the worker community prompted an expansion of the original campaign to sponsor bus rides through the year and add Flyer tickets as well.
Who we are and what we do
ItsRainingRaincoats supports the needs of migrant workers in Singapore. We aim to improve the lives of the migrant workers and build bridges to strengthen their integration into our broader community. We do this using imaginative, innovative, authentic and nimble strategies. Our raincoat symbolizes the protection we provide them from their metaphorical thunderstorms.
---
*Old Campaign*
Christmas Festive Lights Tours
ItsRainingRaincoats is working with MOM to organize a few bus tours for migrant workers to view the Christmas Festive lights in and around Orchard Road and Marina Bay. It would be a welcome break for them after having been cooped up for so many months. 
These bus tours are planned for the last week of December. Your contribution will go towards the rental of several 40-seater buses and snacks during the tour. 
Please note that 100% of all donations go to meet the needs of the migrant workers; IRR has zero overheads.
You can also sign up to join the Bus Tour – interact with the workers and enjoy the festive lights with them! You can indicate your interest using the link below, and we will revert shortly with choice of dates.
Join the Christmas Festive Lights Tour! 
---
About Ray of Hope
100% of your donations through Ray of Hope go to people in need. We do not take a cut from the funds. We even cover 3rd party credit card charges, if you choose not to, that other crowdfunding platforms deduct from your donation for campaigns.
100% of all campaigns are also fully verified, so you know your funds goes to real people with real needs.
We take donor accountability very seriously – with yearly audited accounts and strong governance in place to ensure that your donations is properly channeled to the beneficiaries.
Ray of Hope is a registered charity and a member of the National Council of Social Services.
Anonymous
donated
S$

50.00
8 months ago
A good inititiative from my friend Kanya for her birthday, happy bday dear!
Anonymous
donated
S$

100.00
8 months ago
Thank you for your hard work!
Jacelyn Ng
donated
S$

30.00
9 months ago
Hello! Thank you so much for your hard work :) we hope you enjoyed the bus rides or a ride in our Singapore flyer :)
Michelle Wan
donated
S$

70.00
8 months ago
Anonymous
donated
S$

100.00
8 months ago
Anonymous
donated
S$

50.00
9 months ago
No updates on this campaign yet
S$

30,738.00
Raised of S$50,000.00
Michelle Wan
donated
S$

70.00
8 months ago
Anonymous
donated
S$

100.00
8 months ago
Anonymous
donated
S$

50.00
9 months ago
https://rayofhope.sg/campaign/irrbusflyer/