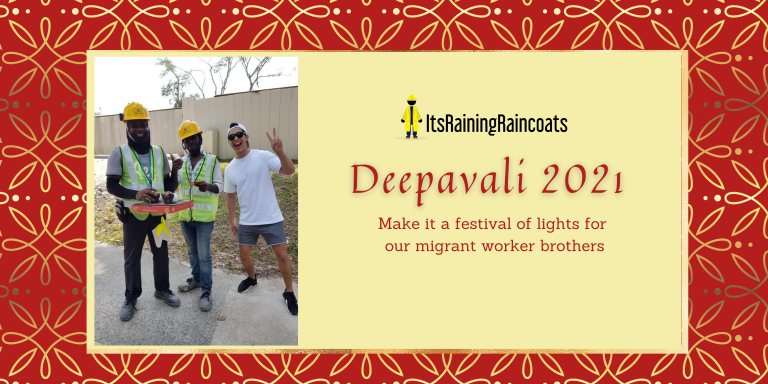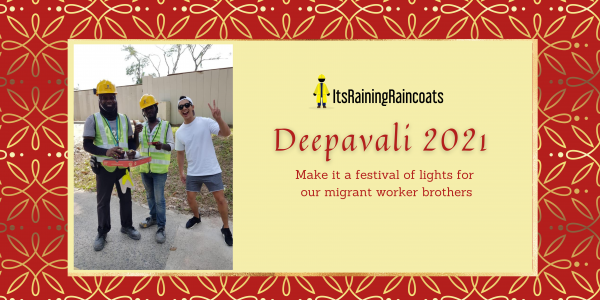 ---
S$

15,552.00
Raised of S$20,000.00
---
CAMPAIGN STORY
Diwali is a Festival of Lights and we invite you to spark some joy for our migrant brothers alongside us!
It has been yet another long year of restricted movements and other struggles for our migrant brothers. We hope to bring a little festive flavour to them this Deepavali.  Whether or not you celebrate Deepavali, we hope you can find it in you to make a small contribution to brighten the lives of our workers during the Festival of Lights.
We are conducting a festive drive-by event for Deepavali on October 30th, 2021. We invite members of the public to deliver pizzas, diwali snacks and treats to migrant workers at their workplaces or to roadworkers they come across. Sharing of food and treats are hallmarks of any holiday, as it is with Deepavali and we want to make sure our workers are not left out!
100% of the funds raised via this portal will be used to purchase pizzas, deepavali snacks, sweets and data cards for the migrant workers. All payments will be made directly to vendors.
---
About ItsRainingRaincoats
ItsRainingRaincoats supports the needs of migrant workers in Singapore. We aim to improve the lives of the migrant workers and build bridges to strengthen their integration into our broader community. We do this using imaginative, innovative, authentic and nimble strategies. Our raincoat symbolises the protection we provide them from their metaphorical thunderstorms.
---
About Ray of Hope
100% of your donations to Ray of Hope go to people in need. We do not take a cut from the funds. We even cover 3rd party credit card charges that other crowdfunding platforms deduct from your donation for campaigns.
100% of all campaigns are also fully verified, so you know your funds goes to real people with real needs.
We take donor accountability very seriously – with yearly audited accounts and strong governance in place to ensure that your donations is properly channeled to the beneficiaries.
Ray of Hope is a registered charity and a member of the National Council of Social Services.
Anonymous
donated
S$

100.00
13 minutes ago
Thank you
Anonymous
donated
S$

50.00
2 hours ago
Thank you
Anonymous
donated
S$

500.00
3 hours ago
Thank you so much for your hard work.
Kok Pin Loa
donated
S$

100.00
49 minutes ago
Anonymous
donated
S$

50.00
1 hour ago
Anonymous
donated
S$

200.00
16 hours ago
No updates on this campaign yet
S$

15,552.00
Raised of S$20,000.00
Kok Pin Loa
donated
S$

100.00
49 minutes ago
Anonymous
donated
S$

50.00
1 hour ago
Anonymous
donated
S$

200.00
16 hours ago
https://rayofhope.sg/campaign/itsrainingraincoatsdeepavali2021/