"My son was looking forward to celebrating his birthday this month. But he knows that it is hard for me now and does not make any requests"
Campaign started on 20/04/2020
S$

1,880.00
Raised of S$1,880.00
92

Days to go

100%

Completed
Campaign Story
The Struggle
Perhaps, it is truly a maternal instinct for mums to protect and keep their children safe. Even though Mdm Jana has been repeatedly hurt by her ex-husband ever since she married him, the 41-year-old has never thought of leaving him out of fear and hope that he will change for the better. The final straw was when Mdm Jana's husband had an affair and continued to abuse her verbally. Mdm Jana decided it was finally time to leave her husband for good as she no longer wants to put her children's lives in potential danger. The single mum is now living with her two children in a transitional shelter is having difficulties supporting her 2 children, 13 and 11.
Financial woes after being medically unfit for work and her ex-husband repeatedly delays maintenance 
It was not an easy decision for Mdm Jana to get out of the abusive relationship. She confided in us and told us how she was afraid to leave him because she feels helpless and is unaware of any help that exists in the community. Even during the days when her eldest daughter was unwell and had undergo surgery, her ex-husband would blame her for losing his job and constantly pressurised Mdm Jana who could not work due to her caregiving duties then. Over the years, the children have also grown to have an estranged relationship with their dad.
Things haven't been easy for the single mum to move out of their rental flat with the children to live in a shelter. Mdm Jana is currently also certified unfit for employment until August 2020 due to the severity of her Major Depression. Now that there is no income from work and her social assistance is in the process of being renewed, the single mum struggles to support her children. Her ex-husband has also been delaying payments of the $800 maintenance for their 2 children. Mdm Jana is currently waiting for the divorce to be finalised and the renewal of her SSO assistance.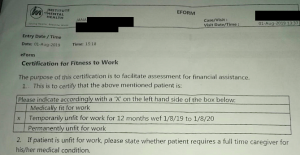 "My son was looking forward to celebrating his birthday this month. But he knows that it is hard for me now and does not make any requests", the resilient mum recounts.
It is not easy raising two young kids single-handedly, but the amount of love she shows for them touched our hearts and we believe she can do it with your kind donations!
Help a single mum who wants to stand on her own feet and be strong for her children
Ray of Hope would like to help give hope to Mdm Jana by raising $1,880 ($470 x 4 months) while she awaits results for her divorce and application for public assistance. Please give hope to this resilient single mum!
*Mdm Jana's SSO assistance has ended in March and is being renewed.
A
Anonymous
Donated
S$

1,880.00
April 20, 2020
Stay strong! Things will get better :) From - EH Charity Team
No updates on this campaign yet