S$

3,969.00
Raised of S$3,966.29
153

Days to go

100%

Completed
Campaign Story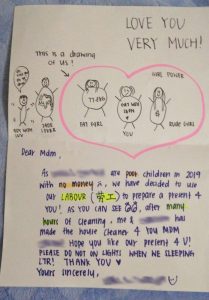 "This is an advanced Mother's Day card from my children. I am thankful that my children are very sweet and sensible" – LC, mother of 3.
Family of 5 struggles when both parents are medically unfit for work
LC, a mother of her 3 children age 20, 15 & 8 suffers from various medical conditions that hinder her from seeking employment to support her family. The 41 year old was working in a bakery as a cashier before she was diagnosed with a host of medical issues. She is now on several follow-ups for LBP secondary to degenerative disc disease and her spinal cord issues. She was also diagnosed with left lower motor neutron facial nerve palsy – attributed to Bell's Palsy and is also undergoing regular shock wave therapy for bilateral plantar fasciitis.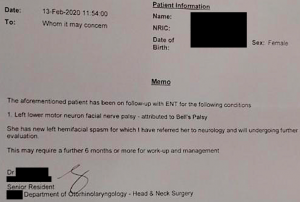 To make matters worse, LC's husband who was working as a relief private hire driver and earning an income of $600 was diagnosed with osteoarthritis on his knees. The pain subsequently worsened to the point that he could not continue driving, thus losing the income for the family altogether. The family is currently staying in a two-room rental flat.

"My SP debts keep piling up and food is never enough for us. My children eat instant noodles and porridge almost every week.", LC told us. Despite being unable to work until her next medical review is only in October, LC tries her best to seek assistance from within the community. She also told us how life after their diagnosis has been difficult and this has resulted in arrears of $1,266.29 incurred with SP Services which they have been trying to pay through an instalment plan. Now that the family has no income at all, LC is worried about putting food on the table for her 3 school-going children, as well as finding means to repay their instalments to avoid their debts from snowballing with no end in sight.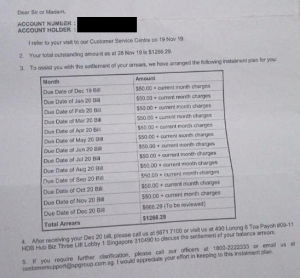 Financial Breakdown
Ray of Hope is raising $3,966.29 to help LC with her SP arrears ($1,266.29) and $2,700 ($450 x 6 months) for the family's groceries expenses so that they do not need to worry about when their next meal will be. 
*LC's social assistance is currently being renewed.
A
Anonymous
Donated
S$

2.00
May 02, 2020
W
Wee Lee Chong
Donated
S$

1,477.00
May 02, 2020
Be strong! Stay faithful! God bless your family!
Z
Z S
Donated
S$

10.00
May 01, 2020
S
Suat Peng Lee
Donated
S$

100.00
May 01, 2020
A
Anonymous
Donated
S$

50.00
May 01, 2020
J
Joanne Yap
Donated
S$

100.00
April 30, 2020
S
Saiem T
Donated
S$

30.00
April 30, 2020
J
Ju Hock Tan
Donated
S$

2,000.00
April 30, 2020
G
Geraldine Gan
Donated
S$

200.00
April 30, 2020
Never give up in all circumstances, there will be light at the end of tunnel.
No updates on this campaign yet