LDL 2020 for ItsRainingRaincoats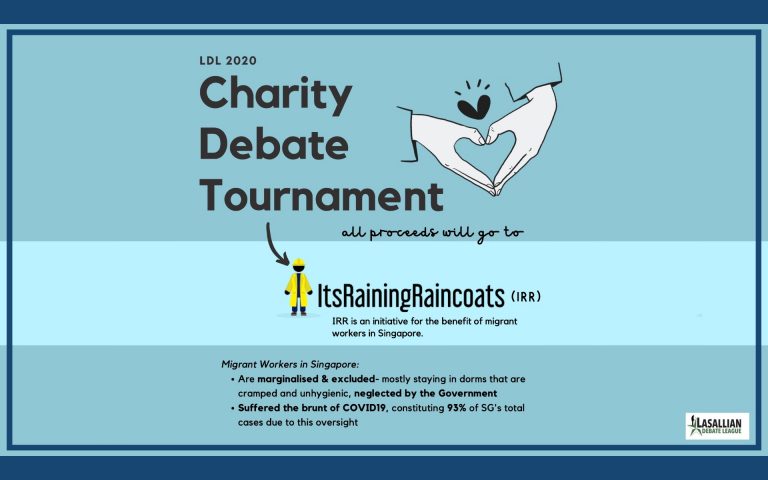 LDL 2020 for ItsRainingRaincoats
---
S$

2,890.78
Raised of S$4,000.00
---
CAMPAIGN STORY
SJI (International) Debate Society proudly presents Lasallian Debate League 2020! Lasallian Debate League (LDL) is an annual charity high school debating tournament, open to both institution and composite teams, locally and internationally. Due to COVID19, LDL 2020 will be hosted online on the 29th and 30th of August.
All proceeds from LDL 2020 will go towards It's Raining Raincoats (IRR). IRR is an initiative for the benefit of migrant workers, providing protection during their metaphorical thunderstorms. Founded by Dipa Swaminathan in 2014, it has gained an incredible amount of traction, using …
Read more
Tony Scheelbeek
donated
S$

50.00
1 year ago
We are all in this together ... we all do our bit
SJI International
donated
S$

1,220.78
1 year ago
Our thoughts and prayers are with you at this difficult time.
Jurong Pioneer Junior College JPJC
donated
S$

130.00
1 year ago
This is for JPJC Debate Teams A & B
Anonymous
donated
S$

10.00
1 year ago
Matthew Teng
donated
S$

500.00
1 year ago
Terh Ling Neoh
donated
S$

65.00
1 year ago
No updates on this campaign yet
S$

2,890.78
Raised of S$4,000.00
Anonymous
donated
S$

10.00
1 year ago
Matthew Teng
donated
S$

500.00
1 year ago
Terh Ling Neoh
donated
S$

65.00
1 year ago
https://rayofhope.sg/campaign/ldlforirr2020/