"When I have no money and I can tell that my children envy others who can eat good food. But what can I do?"
Campaign started on 21/02/2020
S$

1,600.00
Raised of S$1,600.00
0

Days to go

100%

Completed
Campaign Story
The Struggle
Mdm Liana, 47 years old, is a single mum to 3 children aged 17, 16 & 14. She told us that she used to hold two part-time jobs, primarily as a waitress earning $8/hr and doubling up as a baby-sitter to earn some additional income. Mdm Liana confided in the case workers that a child that she was babysitting was allegedly left behind by her mother when she was merely three weeks old. The child's biological mother would visit her child twice a week, to once every fortnight, to once a month, until she eventually became uncontactable. Having cared for the child, now five, Mdm Liana felt for the abandoned child and eventually applied for guardianship of the girl with the help of her social worker, and is now caring for the child as her own.
Help Needed – Give Hope
Speaking to the case workers in their 2-room rental flat, Mdm Liana told us that raising her children single-handedly after her divorce was arduous, especially when she suffers from various medical conditions such as chronic pain on her right leg, as well as nerve and spinal issues. She has also not been working since her diagnosis in 2015 and the family has been relying on social assistance to get through their days.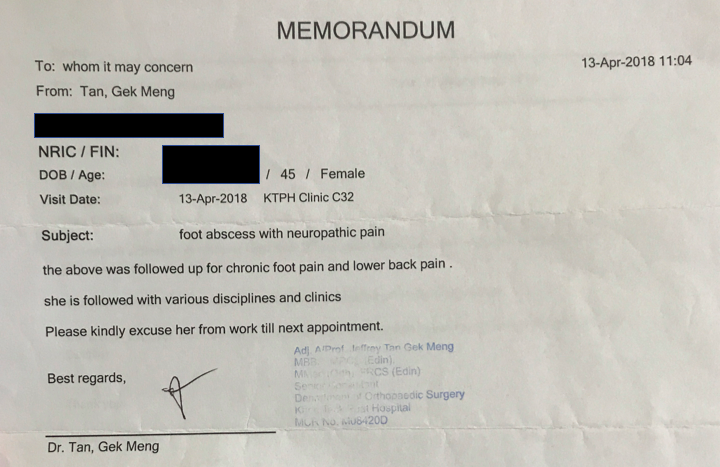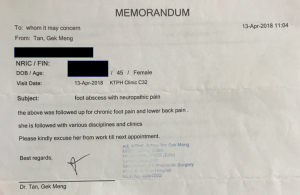 Nonetheless, Mdm Liana is thankful for having her children by her side, citing occasions when her children would remind her of her medical appointments, and the worst decision that she agreed to was allowing her 16-year-old daughter to drop out of school after completing Secondary 3. While her two siblings continued schooling, the teenager initiated dropping out from school to be the mum's main caregiver. "My mum fell at home, and the doctors said that she cannot afford to fall again. My mum is alone at home with my 5 year old sister. What happens if anything happens to her while we are all in school?", the teen told us.
When asked what were the most challenging times that she went through, the 47-year-old said, "When I have no money and I can tell that my children envy others who can eat good food. But what can I do? Sorry mama can't buy the Mac Donalds meal that you want now. But when I have money, I would. My children understand our situation."
Financial Breakdown
Ray of Hope would like to raise $1600 to support the resilient mum and her children while their SSO assistance which expired in December is being renewed. Please donate to a family struggling to get by!
No updates on this campaign yet
https://rayofhope.sg/campaign/liana/