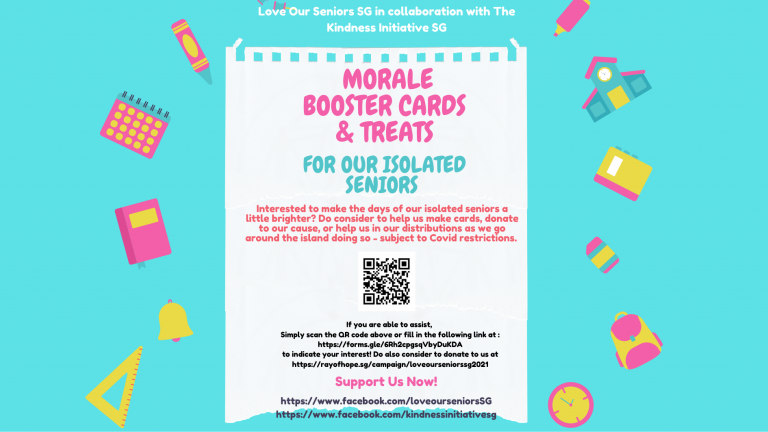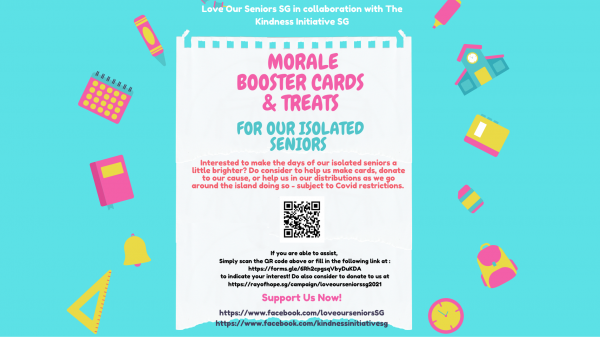 ---
S$

1,123.00
Raised of S$5,000.00
---
CAMPAIGN STORY
Cards and Morale Booster Treats for Isolated Seniors, Elderly Homes and Community Care Facilities
With the recent Covid resurgence, many seniors are once again facing anxiety and loneliness. This specific collection thus seeks to invite volunteers to draw up cards of well-wishes, as well as for the purchase of senior-suitable treats such as soft biscuits, healthier choice drinks and other smaller items that may make a senior's day and reduce their loneliness, including puzzle and colouring books. All funds will be accounted for through this Ray of Hope website, and regular updates can be found here as well as on our Love our Seniors FB page.
About the Ground-up Groups
Love our Seniors SG is a ground up initiative between several friends, led by one of its co-founders, Renita Sophia Crasta. It was set up at the start of the pandemic when many elderly service agencies were struggling to pivot themselves towards not being able to carry out their day care and other day activity services. With an estimated 50,000 seniors living on their own at home, and as more and more other seniors also had to remain at home during this Covid period, loneliness and suicide issues have dramatically increased among the seniors. Love our Seniors SG thus seeks to reinforce connections with our seniors, to motivate them to a greater sense of meaning and contribution, while also keeping in touch with especially isolated seniors in need at residential neighbourhoods, care homes and community hospitals.
The Kindness Initiative SG seeks to promote acts of goodness and kindness amongst everyday Singaporeans, right in our neighborhoods wherever we are. It has brought cheer to many young Singaporeans during this pandemic with its volunteer stepping up with early digital aid efforts that were needed among lower income households, as well as some assisting with recent walkabouts in the neighborhood to encourage vaccinations. Volunteers may follow our The Kindness Initiative SG FB page to share on their ideas and garner other like-minded volunteers too.
If you are also interested to assist us with the drawing of cards or distribution of the items, please contact us on our Love our Seniors or The Kindness Initiative SG FB pages or sign up at https://forms.gle/mThfTjQULWt43aSt6, thanks.
We look forward to everyone's support, thank you!
About Ray of Hope
100% of your donations through Ray of Hope goes to people in need. We do not take a cut from the funds. We even cover the 3rd party credit card charges, if you choose not to, that other crowdfunding platforms deduct from your donation for campaigns.100% of all campaigns are also fully verified, so you know your funds goes to real people with real needs.We take donor accountability very seriously – with yearly audited accounts and strong governance in place to ensure that your donations is properly channeled to the beneficiaries.Ray of Hope is a registered charity and a member of the National Council of Social Services.
Anonymous
donated
S$

100.00
2 weeks ago
On behalf of Gracie :) thank you all for the support ! :)
Vincent Dass
donated
S$

50.00
2 weeks ago
We are here always to take care of you!
Vincent Dass
donated
S$

50.00
2 weeks ago
We are here always for you.
Choy Desmond
donated
S$

50.00
1 day ago
Anonymous
donated
S$

10.00
2 days ago
Elle Cheng
donated
S$

50.00
1 week ago
No updates on this campaign yet
S$

1,123.00
Raised of S$5,000.00
Choy Desmond
donated
S$

50.00
1 day ago
Anonymous
donated
S$

10.00
2 days ago
Elle Cheng
donated
S$

50.00
1 week ago
https://rayofhope.sg/campaign/loveourseniorssg2021/