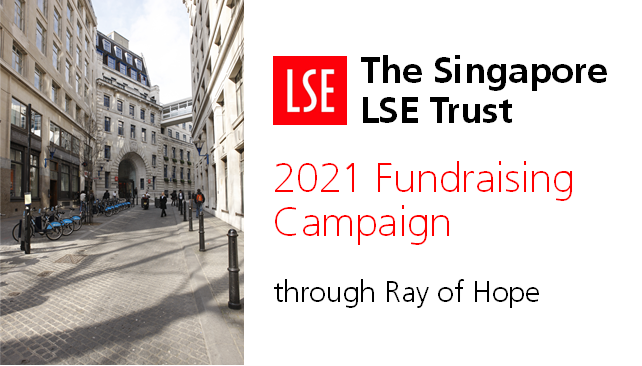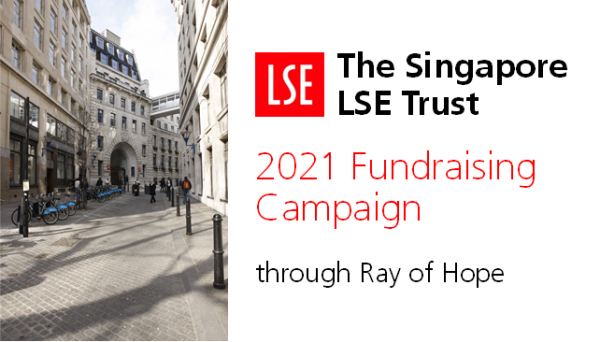 ---
S$

1,076.00
Raised of S$200,000.00
---
CAMPAIGN STORY
The Covid pandemic has shown how fragile the financial arrangements of LSE students can get, through no fault of their own. The pandemic has also depleted the school's resources for supporting financial hardship, which is why the Singapore LSE Trust wants to establish a fund that provides some extra help for Singaporeans in financial need, the Professor Saw Swee Hock Financial Assistance Fund.
Our fundraising campaign helps you double the impact of your donations – and get a tax deduction for your donation at the same time.
Giving is easy through the Trust's Ray of Hope campaign!
Campaign objective: Establish the Saw Swee Hock Financial Assistance Fund
Our campaign wants to raise funds for establishing a financial hardship fund for Singaporean LSE students. All donations will go to The Singapore LSE Trust, an Institution of Public Character (IPC) approved by the Commissioner of Charities. The Trust will in turn use the campaign money to establish the Saw Swee Hock Financial Assistance Fund, which will be managed by the Trust, together with the LSE's Financial Support Office.
Your donations will contribute to the Trust's mission, to help Singaporeans who demonstrate "all-round excellence" but have some financial needs to pursue their dream of studying at the LSE. The Trust was launched in 2004 and has the distinction of being the first charitable trust of its kind established in Singapore by an overseas university.
At the Trust's core is the belief that education is the greatest social leveller, and by donating to the Trust our alumni "pay it forward" and allow others to benefit from the same gift of education that we have enjoyed. Over the last decade, the Trust has awarded 16 undergraduate scholarships and is now looking to launch a financial hardship fund, named after the great Singaporean benefactor of the school, Professor Saw Swee Hock who passed away earlier this year.
Professor Saw was a distinguished alumnus, philanthropist and supporter of the Trust. Supporting Singaporean students in financial need has been a cause close to the heart of Professor Saw during his lifetime. He had initiated the idea of establishing a student support fund, and we hope that naming the fund after Professor Saw is a testimony to his generosity, foresight and kindness.
Applicants for the fund must be Singaporean citizens and current students of the LSE, who will apply for a one-off student hardship award for financial needs arising from unexpected circumstances of up to £3,500 through the school's Financial Support Office (FSO). All cases are reviewed by the FSO and then passed to the Trust for further assessment and decision. The fund will be managed by the Trust as a separate account.
You can find more information about The Singapore LSE Trust, our scholarships and the Saw Swee Hock Financial Assistance Fund on the Trust's website: http://www.lsesingapore.org/index.php/lse_trust/
Tax deduction and dollar-for-dollar matching
Your donations to this Ray of Hope campaign will go directly to the Singapore LSE Trust, and Singapore taxpayers are eligible for a 2.5 times tax deduction during the 2021/22 financial year, for which the Trust will issue tax deductible receipts.
All donations to the campaign will also benefit from dollar-for-dollar matching by TOTE Board's Enhanced Fund Raising Programme up to a cap of $250,000 for the campaign, and 40% matching for donations above that until the cap of $500,000.
So if you want to fully "leverage" your donation and get the maximum benefit to the Trust, please support us and donate to the campaign. Every dollar counts towards helping Singaporeans at the LSE to study without having to worry about financial hardship.
Thank you for your support!
How to donate to this campaign
You can donate to the Singapore LSE Trust 2021 campaign via:
Credit Card: Tax deduction details will be captured there, and a tax deductible receipt will be issued by The Singapore LSE Trust based on your submission. Just click on the "donate now" button above, no further donation form is required.
Bank Transfer to Ray of Hope's bank account 0720071891 with DBS Bank Ltd (Swift Code: DBSSSGSG, Bank Code: 7171, Branch Code: 072). Please clearly indicate "SG LSE Trust" as the purpose of the payment. If you want the donation via bank transfer to be tax deductible you also need to submit the online donation form.
Cheque, for payments over SGD 500. Crossed cheques must be made out to "Ray of Hope" (in full). Please indicate "Singapore LSE Trust 2021 campaign" on the back of the cheque and post it, together the completed hardcopy donation form to The Singapore LSE Trust, c/o TSMP Law Corporation, 6 Battery Road, Singapore 049909. You can also complete the form as an online donation form instead.
The Singapore LSE Trust will prepare tax deductible receipts for all payments to the campaign. Contributions made through bank transfer or cheque will take a few business days to be processed, and hence will not immediately be visible on the campaign website.
About Ray of Hope
100% of your donations to Ray of Hope go to people in need. We do not take a cut from the funds. We even cover 3rd party credit card charges that other crowdfunding platforms deduct from your donation for campaigns.
100% of all campaigns are also fully verified, so you know your funds goes to real people with real needs.
We take donor accountability very seriously – with yearly audited accounts and strong governance in place to ensure that your donations is properly channeled to the beneficiaries.
Ray of Hope is a registered charity and a member of the National Council of Social Services.
Stefan Altorfer-Ong
donated
S$

188.00
2 weeks ago
First donation is in - let\'s go LSE alumni!
Alicia and Stefan Altorfer-Ong
donated
S$

888.00
1 day ago
Stefan Altorfer-Ong
donated
S$

188.00
2 weeks ago
No updates on this campaign yet
S$

1,076.00
Raised of S$200,000.00
Alicia and Stefan Altorfer-Ong
donated
S$

888.00
1 day ago
Stefan Altorfer-Ong
donated
S$

188.00
2 weeks ago
https://rayofhope.sg/campaign/lse-trust/