S$

1,800.00
Raised of S$1,800.00
0

Days to go

100%

Completed
Campaign Story
He suffered a fall and needs an operation to get well
Mr Lim, 55 years old, was a healthy individual who worked as a lorry driver and earned a good nett income of $3,000. Unfortunately, he fell from the lorry in March last year while he was unloading goods, fracturing his right thigh and arms while he was trying to catch hold of the goods. Mr Lim went back to work upon recovery thinking that he has fully recovered, only to injure his right thigh again six months later. This time round, he injured his right thigh when he fell and would require a hip surgery so that he will be able to walk without pain. The 55-year-old told us, "I was busy working everyday to bring money home. "With my coming surgery, I am worried about my father when I can't work for at least 6 months and there will be no income at all".
Mr Lim, who is divorced with 3 sons, is currently staying with his elderly father who was terminated from his dishwashing job in January this year. Mr Lim's eldest son is married and has since moved out, and his second son is currently in prison. His youngest son is under the custody of his ex-wife. During this period while he has not been able to work, Mr Lim has incurred several arrears, including mortgage and utilities for his flat.
Speaking to us in mandarin, Mr Lim told the case workers that while he knows that he will be in good hands of the hospital as he is due for his surgery on 2nd April, he is worried about their living expenses during his recovery period as he would not be able to return to work immediately after his surgery. Mr Lim's surgery was previously scheduled for February, but was rescheduled due to the Covid-19 virus.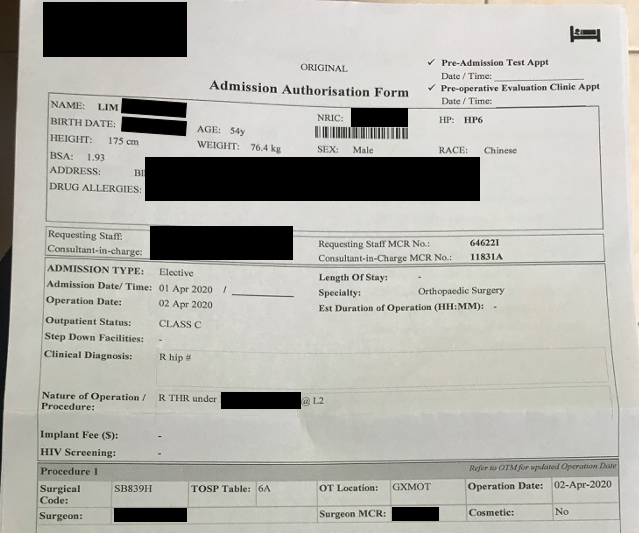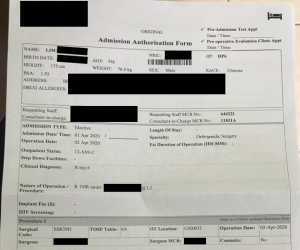 Your donations can help support Mr Lim during his recovery period 
Ray of Hope would like to raise $1,800 ($300 x 6 months) to help Mr Lim and his elderly father with their groceries expenses while Mr Lim gets well after his hip surgery in April.
*Mr Lim is currently receiving social assistance and it ends in March 2020.
No updates on this campaign yet
https://rayofhope.sg/campaign/mrlim/