"I never expected to receive him back this way": Families of recent accident victims struggle with grief
Campaign started on 10/05/2021
S$

11,483.00
Raised of S$150,000.00
104

Days to go

7%

Completed
Campaign Story
"I don't know how my family will survive now," said Tofail Ahmed, choking back tears.
The 63-year-old and his wife are among a group of grief-stricken family members who lost their loved ones in a spate of fatal accidents in Singapore last month.
On the morning of April 20, their son, Tofazzal Hossain, 33, was travelling on the back of a lorry with 16 other migrant workers, when the vehicle collided with a stationary tipper truck on the Pan-Island Expressway (PIE).
Tofazzal was one of two workers who succumbed to their injuries in hospital. He leaves behind a two-year-old son, widow, elderly parents and four siblings.
Speaking to volunteers from Here With You Helpline, Migrant Workers Singapore and Minority Voices on May 4 through a Bengali interpreter, his family shared their shock, grief and distress.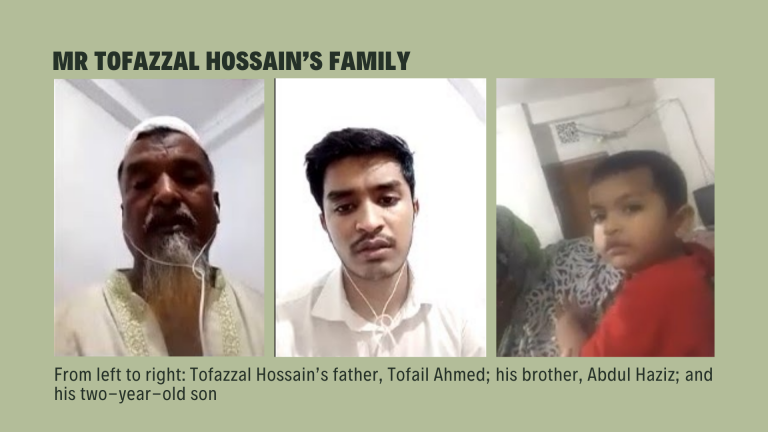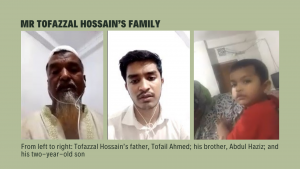 Tofazzal started working in Singapore in 2009. He last returned home in 2018 to get married and left again before his first son was born. His son has never met his father in person before.
Tofazzal's wife, Tarin Akter Bethi, said she is still struggling to come to terms with his death. "I am sad that my son doesn't have a father anymore."
"He was the sole breadwinner of our family," said his younger brother, Abdul Haziz, 27, who recently graduated with a diploma in dentistry.
Now an intern at a medical college, he described his brother as an umbrella that offered a shield and support for his family.
"The pain is indescribable. He was more like a friend to me. Every time he goes away, I miss him. But I never thought I would receive him back in this state."
Tofazzal would typically remit between 50,000 and 70,000 taka (S$780 to S$1110) to his family every month. The amount was meant to pay off his $8,500 recruitment fee, cover his family's living expenses, younger brother's school fees, as well as the cost of his parents' insulin and blood pressure medicine.
He recently sent his family 200,000 taka (about S$3,100) to fund his 57-year-old mother's open heart surgery, but did not have enough money to go home to see her.
Abdul added that in addition to their financial struggles, the family is also worried about their ailing mother's health. "She has been crying every day and is not able to speak to us."
"I loved him very much," said Tofazzal's dad, who recently battled and recovered from Covid-19. "He was my only son earning money and was helping us to solve our financial burden."
Tofazzal's family feels lost both financially and emotionally with his passing.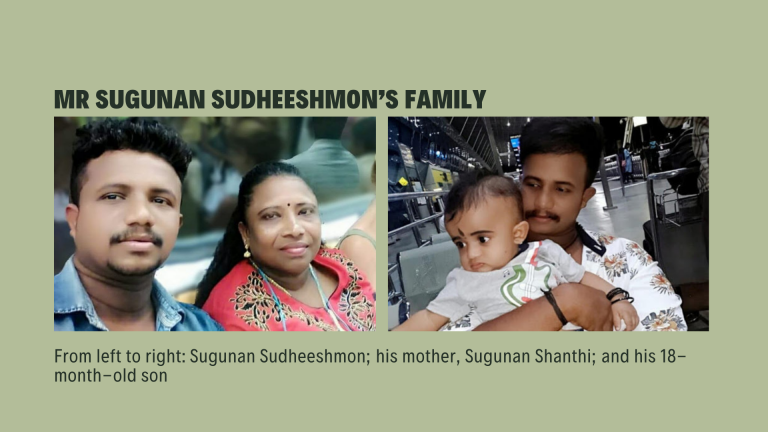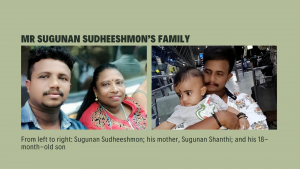 Sugunan Sudheeshmon, 28, from Kerala, India, was the second fatality of the lorry accident on the PIE. He is survived by his wife and 18-month-old child.
Sugunan moved to Singapore about 2.5 years ago with hopes of earning enough to build his family a house back in India. Determined to get a job here, he resorted to pawning family jewellery to afford his broker's fees.
After his death, his mother, Sugunan Shanthi, who moved to Singapore to work 13 years ago, returned to Kerala to be with her family and other son.
She is aware that she may not be able to return due to Covid-19 travel restrictions, but insists that she needs to be with her family in this difficult time even as they struggle to support themselves financially.
Sugunan's mother is now preparing the rites and rituals for her son's funeral.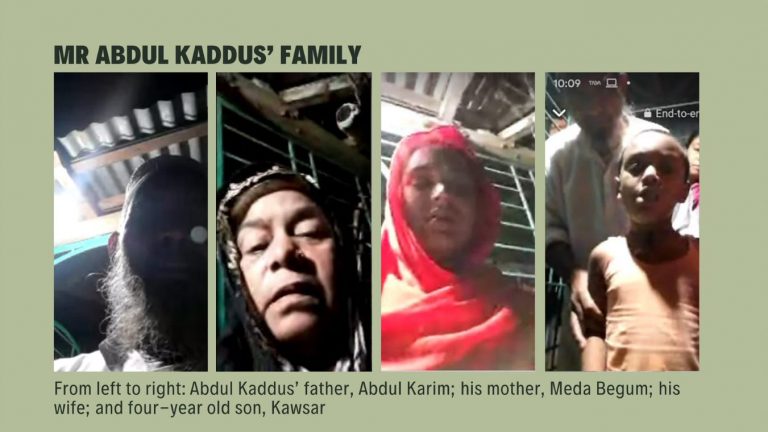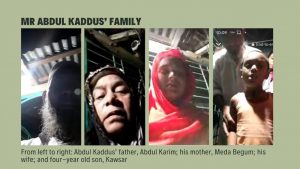 On April 22, Abdul Kaddus, 37, died from his injuries after a concrete breaker attachment detached from an excavator and fell on him as he was helping a coworker lift some steel frames at a worksite in Ubi.
He had worked in Singapore for seven years before the fatal accident.
Kaddus was his family's sole breadwinner. His monthly income went towards supporting his elderly parents, wife and four-year-old son, Kawsar, who has not begun school yet.
Kawsar does not know that his father has passed away. He is angry that his father is not calling home to speak with him.
In a phone call with volunteers, he asked to speak with his father and asked if his father would be returning home to fulfill his promises. "He said he would build our house and a toilet when he comes back."
Kaddus' father confessed that he never wanted him to come to Singapore, stressing that he loved his son dearly.
He had wanted to set up a business with his son in Bangladesh, but Kaddus left for Singapore as he thought that he would be able to save more money working here.
Kaddus' father is no longer able to start a business as he has a heart condition and recently went for an ear operation a few months ago.
Crying over the phone, Kaddus' mother, Mazeda Begum, said: "I loved Kaddus very much. Whatever Kaddus liked, I would cook for him."
"Even when he was in Singapore, I would ask him to come back. I would tell him to just earn enough money to take care of my grandson and to come home to live together."
She is now worried about her grandson and his education. "How can I raise my grandson now? I hope my grandson can become a scholar."
The families of Tofazzal Hossain, Sugunan Sudheeshmon and Abdul Kaddus will never see their sons again.
The Here With You Helpline, Minority Voices and Migrant Workers Singapore aims to raise $150,000, to be distributed evenly among the three families equally, to support them as they work towards healing and picking up the pieces. The funds raised in this campaign will supplement the work injury compensation due to the families as part of the Work Injury Compensation Act, WICA. All three workers were sole breadwinners of families and the disbursement of funds will be staggered.
About Here With You Helpline
The Here With You Helpline is a crisis helpline formed by an independent group of volunteers, care professionals and migrant workers, to assist migrant workers in distress.
About Minority Voices
A safe space for minorities in Singapore. We aim to highlight their experiences with racism and discrimination, give a platform to the unheard and encourage community discourse while uplifting the marginalised.
About Migrant Workers Singapore
A platform created by a community of migrant workers in Singapore to showcase migrant talents and shared culture.
About Ray of Hope
100% of your donations through Ray of Hope go to people in need. We do not take a cut from the funds. We even cover 3rd party credit card charges, if you choose not to, that other crowdfunding platforms deduct from your donation for campaigns. 100% of all campaigns are also fully verified, so you know your funds goes to real people with real needs. We take donor accountability very seriously – with yearly audited accounts and strong governance in place to ensure that your donations is properly channeled to the beneficiaries. Ray of Hope is a registered charity and a member of the National Council of Social Services.
No updates on this campaign yet