Parents of 3 young children struggle as husband's toes get amputated (FULLY RAISED)
Campaign started on 17/06/2019
S$

1,733.60
Raised of S$1,633.60
0

Days to go

100%

Completed
Campaign Story
Update: Ray of Hope will be extending our assistance by raising another $577.60 to assist Keith and Evon with their arrears while they get back on their feet. 
Medical: $493.10
HDB:$52.20
Town Council: $32.30
Funds raised for the family's arrears will be paid directly to the various agencies.
******************
The Struggle
Keith and Evon are parents to three adorable children. The family of 5 was relying on Keith's income as a courier before he contacted an infection on his right toe. What had started as pain on his feet which he experiences quite often soon developed into an infection caused by the blockage of his blood vessel. As the infection could not be contained in time, three of Keith's toes have been amputated.
The 38-year-old was working as a courier, bringing home not more than S$500 a month and supporting his family and three children (10, 7 & 2). On 1st June this year, Keith experienced an excruciating pain on his feet and had to be admitted to the hospital to receive treatment. By then, his toes could not be saved and had to be amputated in hope of containing the spreading of the infection to the other toes.
Evon, 36 years old, told us how helpless she felt when learnt that the condition on Keith's toes was deteriorating. By then, Keith was diagnosed with Buerger's Disease, and the pain that he was experiencing before his amputation became far beyond what he could put up with, especially when his job requires him to drive.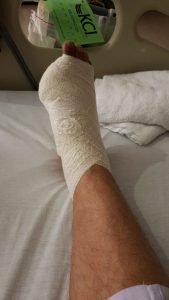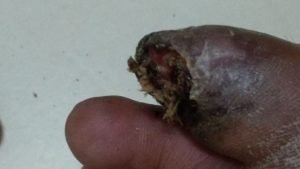 Help Needed – Give Hope
Keith was recently hospitalized for his amputation surgery and has just returned home. However, he is unable to continue working as a courier as he has been advised by the doctor to take proper care of his wound for now as the lack of proper care might result in another infection, which might ultimately lead to another amputation surgery which is the last thing on Keith's mind.
Since Keith's diagnosis, it has become increasingly straining for the family financially while Evon remains as the primary caregiver to their young children. Evon shared with us that their youngest son was diagnosed with a hole in his heart and has been weak since birth. Their 7-year-old daughter has mild learning disabilities, but with the family could not afford to let her continue attending her monthly sessions with her speech therapist despite knowing that this would continue to hinder her learning. Now that Keith is back home, Evon told us that she is worried about the family finances as Keith would not be able to return to work any time soon.
Financial Breakdown
Ray of Hope would like to raise S$1,056 ($264 x 4 months) to defray the couple's expenses for their children, primarily for the transport and school pocket money allowance for the two older kids and the youngest child's milk and diapers.
*Keith and Evon are currently not receiving SSO assistance after their assistance ended in May 2019.
November 8, 2019

Payment made to Town Council

Ray of Hope has made a payment of $101.80 for Evon's town council arrears as well as the current month charges. With her husband's income fluctuating due to his recovery, Evon is thankful that the funds came in handy to clear their arrears.

October 29, 2019

4th Disbursement

Mdm Evon has received her 4th disbursement. Thank you donors for giving hope to Mdm Evon and her family as they slowly work their way out to improve the financial situation at home!

September 19, 2019

3rd Disbursement

The case workers met Evon yesterday for her disbursement. She updated us that her husband has recently started to do deliveries so that he can sustain some income for the family. School wise, her two older kids are coping fine in school and her daughter has been keeping up with…

Read More

July 18, 2019

Sponsors have sent a new mattress, diapers and groceries

Some kind sponsors have reached out to send a new mattress, baby diapers and some groceries to Evon's family! The kids were excited about the new mattress as their existing one has worn out over the years. Thank you donors!

July 11, 2019

First disbursement made

The case workers visited Evon yesterday for her cheque disbursement. She informed us that her husband has just undergone another round of surgery for the grafting of his toes, and is currently still hospitalized. The family is thankful for the funds raised as it came in handy during this period…

Read More
A
Anonymous
Donated
S$

577.60
June 21, 2019
A
Anonymous
Donated
S$

100.00
June 19, 2019
C
Cat for Door Knock Charity Group
Donated
S$

556.00
June 17, 2019
A
Anonymous
Donated
S$

500.00
June 17, 2019