"I am humbly pleading for a chance to live on and lead a normal life for as long as I can. This is my last chance to save my life."
"I am humbly pleading for a chance to live on and lead a normal life for as long as I can. This is my last chance to save my life."
---
S$

251,255.88
Raised of S$379,000.00
---
CAMPAIGN STORY
Hello, I am Rachel Cheong, aged 29. I was diagnosed with T-cell Acute Lymphoblastic Leukaemia (T-ALL) in April 2018. It started off with having night sweats, bloated body and being unable to lie down to sleep, as I had a tumour 25cm in size pressing against my heart. Surgery was not possible due to the high risk. I began undergoing numerous chemotherapy and radiotherapy sessions to help me cope. My body initially responded well to the first 6 months of chemotherapy in 2018, with the Positron Emission Tomography (PET) scans and necessary tests coming back clean, declaring me free from cancer.
However, in Jan 2019, I woke up one morning and experienced difficulty opening my left eye. Within a week, I was unable to open my left eye at all. I was rushed to the hospital, where I discovered a cancerous growth at the back of my left eye and my neck. This was my first relapse after all the treatment I had underwent. The next course of treatment was for me to go through a targeted radiotherapy for my eye as it was the most direct way to get rid of the cells.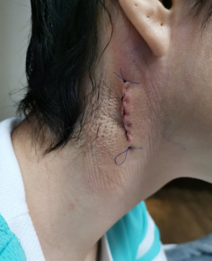 On 18 August 2019, I went through a stem cell transplant to completely clear off the leukaemia. In hopes of being able to live, I prayed daily for my speedy recovery. Unfortunately, barely 3 months after the transplant, I was hit yet again with devastating news; I had started developing dark spots and lumps on my skin around my stomach area. The skin biopsy test result showed that the leukaemia had returned and was affecting my skin.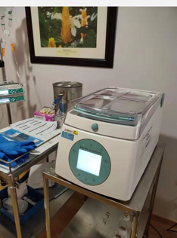 After exhausting every kind of therapy available to cure the cancer, my last hope is to undergo CAR-T therapy in NUH which started trial in 2019, where cancer-immune cells (T cells) are equipped with Chimeric Antigen Receptors to kill cancer cells. If I don't give it a shot, I'll just be waiting for the cancer cells to spread throughout my body. As I would be in an isolation ward for a month, I would have to be prepared to pay for an estimated sum of S$250K for the scans and hospitalization fees.
The news article on the success case
https://www.channelnewsasia.com/news/singapore/cancer-nuh-singapore-oscar-acute-lymphoblastic-leukaemia-12233444
I am expected to go through at least 3 months of chemotherapy to make sure the cancer cells do not overwhelm my body before I can receive the CAR-T therapy, which is currently pending results from the laboratory testing of my cells. From 25 March 2020 till the present, I have been on chemotherapy to suppress the cells. The total cost as of 11 June is S$$12,947.97, which has already exhausted all of my savings. It will cost an estimated S$47,147.40 to sustain the therapy till 15 July 2020.
Despite all that has happened, I am not afraid of the needles nor the treatments given to me. I remain cheerful and optimistic, cheering on the patients around me to fight on. I am not giving up.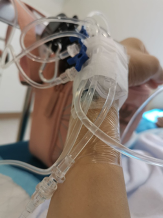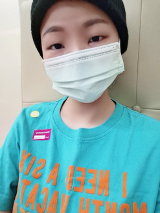 I am humbly pleading for a chance to live on and lead a normal life for as long as I can. Please, any amount of donations would be of great help to me. This is my last chance to save my life.
Because I want to live.
Please.
*Funds raised will go towards paying for Rachel's medical bills which will be paid to the hospital directly.
Vicky Lim
donated
S$

50.00
1 year ago
Stay strong ??
Wee Lee Chong
donated
S$

200.00
1 year ago
Stay strong, Rachel! God bless!
Anonymous
donated
S$

200.00
1 year ago
Hi Rachel, we may never understand why life must be so hard, but I want to share my belief that Jesus is in control and He knows our pain. Pray that you may experience his comfort by calling his name. You are not alone!
Anonymous
donated
S$

50.00
1 year ago
Anonymous
donated
S$

25.00
1 year ago
Anonymous
donated
S$

50.00
1 year ago
Thank you, from Rachel's husband
Ray of Hope has transferred the balance funds from the campaign to Rachel's husband. He is thankful for all the help and support that was rendered to his family during this while. He has a thank you message as follows: "Thank you, I have received the sum of $97,740.80 from……
Updates on Rachel's condition
The caseworkers were updated by Rachel's husband that she has passed away on 18th October after her condition deteriorated. To date, $153,214.99 has been paid out to the hospitals for Rachel's medical bills.
Updates on Rachel's condition
The caseworkers have received the following updates from Rachel's husband, Nick: "Due to the complication that came up along this week. The Dr is still discussing the plans for her. It would be an additional of another estimated $250k as they would require her to go for another bone marrow……
First disbursement made
A payment of $33,294.50 has been made out from Rachel's fundraiser to Centre for Clinical Haematology Pte Ltd for her chemotherapy treatments.
S$

251,255.88
Raised of S$379,000.00
Anonymous
donated
S$

50.00
1 year ago
Anonymous
donated
S$

25.00
1 year ago
Anonymous
donated
S$

50.00
1 year ago
https://rayofhope.sg/campaign/rachel/