S$

750.00
Raised of S$540.00
0

Days to go

100%

Completed
Campaign Story
*Double your giving this December! Every dollar donated to our campaigns will be matched dollar-for-dollar this December!*
Background
"I might not be well, but my kids are well taken care of " 
Mdm Zaleha* is a 32-year-old mother to 5 children between the ages of 3 years old to 11 years old. Most of her children suffers from severe Asthma and her second child who is 10 years old suffers from Attention Deficit Hyperactivity Disorder (ADHD). Her third child who is 7 years old has also shown symptoms of ADHD.
Mdm Zaleha herself suffers from Major Depressive Disorder, Generalised Anxiety Disorder and suspected liver failure which causes her severe migraines and fainting spells. She consumes more than 10 different types of medications a day.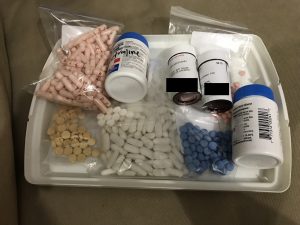 The Struggle
While life has been extremely difficult for Mdm Zaleha, she is a nurturing and loving mother. Even though she has many chronic illnesses she looks after her children and ensures that they are well taken care of. It has not been an easy journey for her battling depression and anxiety and looking after 2 children with ADHD.
To make matters worst at home, her husband is currently estranged from her and even though he is working full time, he only gives her a small fraction of his pay, which is insufficient to provide for his 5 children's basic living expenses. All caregiving duties also falls on her and she is caring for 5 children alone with no support from her estranged husband.
Help Needed – Give Hope
Mdm Zaleha is receiving government financial assistance however, due to her many chronic illnesses and her severe migraines and fainting spells, she is required to travel to her many medical appointments via taxi. She walks with a walking stick and has fainted a few times outside before. She struggles with her transportation costs and is mostly confined at home which has worsened her depression.
Her ADHD son also frequently plays with the gas tong and she is worried about the safety of her family. Ray of Hope would like to raise S$540.00 for the following expenses:
Transport: S$300.00 (S$100.00 x 3 months)
Installation of Gas Line: S$240.00
Please give hope to Mdm Zaleha and her 5 children!
* Name has been changed to protect the identity of Mdm Zaleha while she tries her best to remain strong and cope with her current difficult circumstances
* She is currently receiving government financial assistance
* Ray of Hope used to assist Mdm Zaleha. We are reopening another round of assistance as her circumstances have deteriorated  
Donated
S$

210.00
January 02, 2020
D
David Connor
Donated
S$

60.00
December 24, 2019
A
Anonymous
Donated
S$

50.00
December 23, 2019
A
Anonymous
Donated
S$

50.00
December 23, 2019
A
Anonymous
Donated
S$

50.00
December 18, 2019
You are a very strong woman. Stay strong and look after yourself as well. Pray for your health and your family well-being. InsyaAllah!
Donated
S$

85.00
December 17, 2019
A
Anonymous
Donated
S$

50.00
December 15, 2019
Dear Mdm, may you find ease through your struggles.
A
Anonymous
Donated
S$

35.00
December 15, 2019
A
Anonymous
Donated
S$

50.00
November 16, 2019
A
Anonymous
Donated
S$

100.00
November 13, 2019
A
Anonymous
Donated
S$

10.00
November 13, 2019
No updates on this campaign yet