S$

500.00
Raised of S$1,750.00
0

Days to go

29%

Completed
Campaign Story
The Struggle
45-year-old Anna used to be healthy and financially independent before she was diagnosed with multiple illnesses. She was diagnosed with Systemic Lupus Erythematosus (SLE) among many other medical conditions 6 years ago. Her long list of medical issues includes biliary cirrhosis, Hepatitis B, peripheral neuropathy, chronic sinusitis, obstructive sleep apnoea and anaemia. She also experiences pain from her joints due to degenerative joint disease. Doctors have also warned Anna that she is likely to go blind in 10 years from taking the medications for her SLE.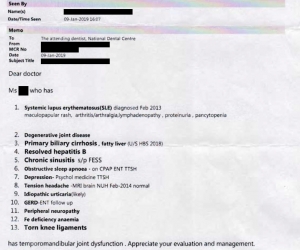 Help Needed – Give Hope
Anna's employment last drawn gross salary was S$1,450. Anna stopped her full-time work shortly after she was formally diagnosed with SLE as it was causing her extreme fatigue, and she could not focus on her work.
Despite being her poor health, Anna did not want to rely on others. She wanted to support herself so her brothers could have their own lives after they settled down, instead of worrying about her. Anna was on contract with a mission organisation for two years, working part-time, before starting to volunteer in order to do her part for the community. Anna picked up handicraft skills while attending training to improve herself, and ended a 6-month internship as a Peer Support Specialist in May this year. Since then, Anna has been actively seeking employment, but to no avail.
Financial Breakdown
Ray of Hope would like to raise $1,750 to cover Anna's living expenses for 5 months ($350 x 5 months). Your donations would help Anna immensely!
*Anna is currently not receiving SSO assistance after her assistance ended in May 2019.
July 18, 2019

First disbursement made

The case workers met Anna for her first disbursement yesterday. She updated us that she is currently volunteering in a peer support group and conducts art classes for patients with mental illness. She proudly told us that it gives her a deep sense of satisfaction and gratitude that despite her medical conditions, she too, can be capable of giving back to help others in need. This has in turn helped boost her confidence in wanting to pursue her dream of opening an arts cafe!
Donated
S$

100.00
November 05, 2019
J
Jeanette Cheong
Donated
S$

300.00
June 18, 2019
C
Catherine Olsen
Donated
S$

100.00
June 14, 2019
All the best to you