(Urgent) 33-year-old Singaporean suffering from pneumonia needs your help!
Campaign started on 19/02/2020
S$

1,290.00
Raised of S$1,200.00
0

Days to go

100%

Completed
Campaign Story
Campaign update: 
The case workers have visited Thiam Hock and understand that he would require assistance for his living expenses during this trying period as he gets well. Hence, we will be raising $1,200 ($400 x 3 months) for him while he recovers and before he is able to seek employment. Your donations can give hope to Thiam Hock during his recovery period!
**************
The Struggle
Thiam Hock is a 33 year old Singaporean who had felt unwell while he was in Korea with his family. He then managed to contact and made his way to the Singapore embassy, where he was subsequently admitted and had to stay in the ICU due to the severity of his condition then. Unfortunately, he was diagnosed with pneumonia requiring ECMO, mechanical ventilation and CRRT (continuous renal replacement therapy). Thiam Hock then stayed in the ICU for a prolonged period as he fell into coma, causing his medical bills as a foreigner to shoot up to a minimum of S$100,000.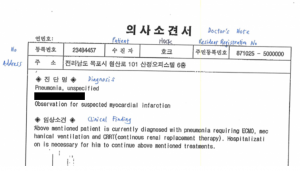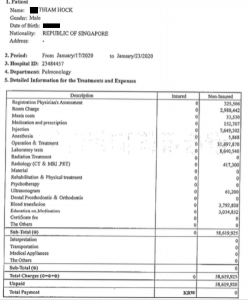 Help Needed – Give Hope
Thiam Hock's mum, Mdm Chia got in touch with Ray of Hope through the officers from Ministry of Foreign Affairs Singapore who have been assisting her son during this period. When the case workers contacted Mdm Chia, she told us how helpless she felt upon knowing how her son who has always been healthy had suddenly fallen ill. "Thiam Hock has always been strong, but looking at his photo that they (the officers) sent me, I could not help but cry thinking that I could not be by his side", says Mdm Chia.
Mdm Chia is also receiving regular updates on Thiam Hock's progress and was recently updated that her son has since been moved to the normal ward, and is recovering well. The doctors have also advised that Thiam Hock would subsequently require regular physiotherapy sessions when he is back in Singapore in order to make a complete recovery. Thiam Hock is currently awaiting to be discharged so that he could fly back to Singapore to be with his family.
The recovery process for her beloved son may be daunting, but Mdm Chia refuses to give up on helping the son get back on his feet again.
Financial Breakdown
Through our communication with Thiam Hock's mother, she shared that her son's medical bills have reached a minimum of S$100,000*, which is way above what she could afford. Therefore, she is appealing for public assistance to help her son with his medical fees while he gets onto the road of recovery.  
*The hospital bill as advised is tentative until Thiam Hock is discharged. Bill excludes cost of subsequent physiotherapy sessions and caregiving costs.
February 29, 2020

Update on Thiam Hock's discharge

Ray of Hope has been updated by Thiam Hock's mum that her son has returned to Singapore last week. She told us that she has paid $8,000 to the Korean hospital last week before they discharged her son. He has since flown back to Singapore, and is currently in a…

Read More
J
Ju Hock Tan
Donated
S$

1,000.00
April 09, 2020
A
Anonymous
Donated
S$

100.00
April 08, 2020
A
Anonymous
Donated
S$

100.00
April 08, 2020
힘내새요
A
Au Candy
Donated
S$

10.00
April 08, 2020
A
Anonymous
Donated
S$

50.00
April 06, 2020
A
Anonymous
Donated
S$

30.00
February 21, 2020