Widowed elderly struggles with dialysis fees
Campaign started on 13/08/2019
S$

1,472.00
Raised of S$2,281.65
0

Days to go

65%

Completed
Campaign Story
*Double your giving this December! Every dollar donated to our campaigns will be matched dollar-for-dollar this December!*
The Struggle
Mdm Chua, 74 years old, is an elderly who has never worked in her life and was financially reliant on her husband. Since his passing many years back, Mdm Chua has been staying with her youngest son in their one-room rental flat. The 74-year-old suffers from kidney issues and requires dialysis thrice a week. She also often suffers from giddiness after her dialysis and her mobility is sometimes hindered by her weak legs. She also suffers from heart issues.
Mdm Chua has 3 children, but is only supported by her youngest son who works as a cleaner and brings home about S$800 a month. Her daughter is married with 3 kids, but is also struggling as the family is only relying on her husband's sole income.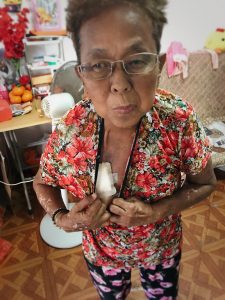 Help Needed – Give Hope
When the case workers met Mdm Chua, she related her story to us about why the mother-son duo is having a hard time. Mdm Chua's eldest son who has since disappeared more than a year ago, owns a beauty spa business and allegedly misused his mother's personal information for his business' hiring quota although she was not an employee of his company. Mdm Chua was kept in the dark until the lease tenancy for her rental unit was due and her rent was raised from $44 to $350 a month due to Mdm Chua's reported income of more than $2,000 based on her son's declaration. Since then, Mdm Chua's son has not contacted or visited her at all. Mdm Chua lamented that she did not believe that her son would have the heart to land his mum into trouble.
The mis-reporting of income has resulted in more issues than that when it also disqualified the elderly from the Silver Support Scheme of which she was entitled to receiving $750 every three months. Although Mdm Chua has since reported the incident to the CPF Board, she is still struggling with her high rent and living expenses as her lease tenancy is only renewable every two years.
In spite of her problems, Mdm Chua still continues to care for her neighbour, who is currently also assisted by Ray of Hope. Mdm Chua told us that despite not receiving education when she was young, she believes in reaching out to help those around her while she is still well and mobile.  We were deeply touched by her selflessness to keep those around her in mind, as she has been helping to cook for her neighbour since her fall.
Financial Breakdown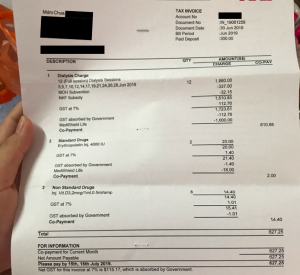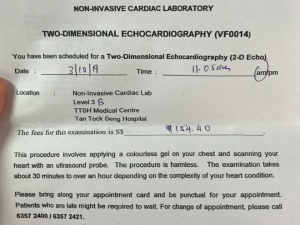 Ray of Hope would like to raise $2,281.65 for Mdm Chua's outstanding dialysis and medical fees ($781.65),  and living expenses for 5 months ($300 x 5 months). Payment of Mdm Chua's dialysis fees will be made to the relevant agencies directly.
January 23, 2020

Hong Bao for Hope 2020

Mdm Chua is one of the 31 identified recipients of the campaign. Ray of Hope has raised $200 for her family and recently met her for her cheque disbursement. The elderly told us that she was not expecting to receive additional funds for the festive season. When the case workers…

Read More

January 3, 2020

2nd disbursement

The case workers visited Mdm Chua and her son yesterday at their new 2-room rental flat! They told us that they were happy to be able to get their new flat before new year, although it also means leaving their neighbours at their old flat. Their new flat is sparsely…

Read More

September 23, 2019

1st disbursement made to Mdm Chua

Ray of Hope case workers visited Mdm Chua after her dialysis last week to pass her first cheque! The elderly says that she is humbled to be receiving help from the people around her. She wishes to thank the donors for helping her family out as they are currently struggling…

Read More
M
Mdm Ong
Donated
S$

472.00
January 30, 2020
Donated
S$

25.00
January 02, 2020
A
Anonymous
Donated
S$

25.00
December 31, 2019
Donated
S$

50.00
December 26, 2019
A
Anonymous
Donated
S$

50.00
December 23, 2019
Donated
S$

50.00
December 22, 2019
Y
Yao Min Ng
Donated
S$

50.00
December 19, 2019
Donated
S$

200.00
December 11, 2019
K
Khok Kheng Lee
Donated
S$

100.00
December 06, 2019
A
Anonymous
Donated
S$

100.00
December 03, 2019
J
Joel Lim
Donated
S$

50.00
November 04, 2019
Donation in honor of my dad who recently passed away due to pancreatic cancer. It would be his wishes to be help his fellow pioneer generation. In honor of Kok Seng
Donated
S$

260.00
September 12, 2019
S
Saiem T
Donated
S$

30.00
August 27, 2019
A
Anonymous
Donated
S$

10.00
August 21, 2019