Diagnosed with end-stage cancer, Wirat worries about supporting his family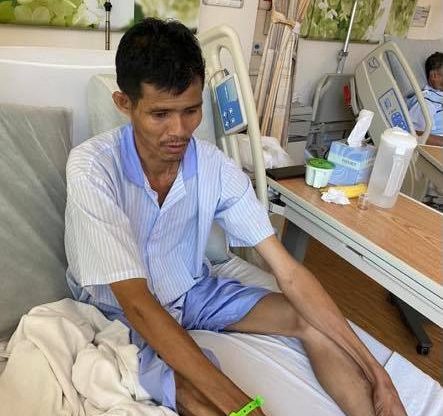 Diagnosed with end-stage cancer, Wirat worries about supporting his family
---
S$

8,937.78
Raised of S$20,400.00
---
CAMPAIGN STORY
Yaemkal Wirat, aged 49, is from Phichit, Northern Thailand. He is the sole breadwinner supporting his family. He has worked in Singapore for more than a decade and more than three years with his current employer. To provide for his family, Wirat tolls hard and remits the bulk of his salary each month home. Back home, Wirat's wife manages the family's expenses with all that her husband sends home each month. The couple has three children, aged 7, 22 and 23 respectively. Their eldest son is currently unemployed due to the Covid-19 situation in Thailand, while their 22-year-old and 7-year-old are attending school.
In July 2021, Wirat was admitted to the hospital by his employer after feeling severely breathless at work. Through the X-Ray, ultra-scans and further tests that were done, Wirat was finally diagnosed with end stage lung cancer. The news finally crushed Wirat's hopes of providing for his family.
Encouragement and support from his employer
We understand that Wirat's insurance coverage has already been maxed out as Wirat's hospital bills had exceeded the cap of $15,000. Ray of Hope is in contact with Wirat's employer who has gone beyond their obligations and raised about $17,000 for Wirat's family through their own networks. Wirat is due to return home next Wednesday, 8th September.
Additionally, the employer has also paid for Wirat's air ticket ($200), quarantine order (S$1,300) and two months' supply of medication ($6,000).
In the meantime, Ray of Hope would like to raise $20,400 for Wirat and his family. He was earning $1,700 a month when working in Singapore and this amount ($1,700 x 12 months) will be able to support his family due to the loss of income. We hope that Wirat will recover to be stronger and be able to work again to support his family.
Jilei Yeo
donated
S$

100.00
3 weeks ago
Wirat don\'t give up hope, praying for well-being of him and your family🙏
George Yeoh
donated
S$

100.00
1 month ago
Praying for you and your family!
Anonymous
donated
S$

500.00
1 month ago
Please don\'t give up!
Anonymous
donated
S$

100.00
1 week ago
Anonymous
donated
S$

30.00
1 month ago
Anonymous
donated
S$

10.00
1 month ago
No updates on this campaign yet
S$

8,937.78
Raised of S$20,400.00
Anonymous
donated
S$

100.00
1 week ago
Anonymous
donated
S$

30.00
1 month ago
Anonymous
donated
S$

10.00
1 month ago
https://rayofhope.sg/campaign/wirat/