An accident left him jobless and in debts
Campaign started on 2019-08-07
66

Days to go

0%

Completed
Campaign Story
The Accident
Hasan, 27 years old, met with an accident at the construction site where he was working at. On 5th December 2018, his right foot was trapped under a thick 2.5 tonne metal slab and a dump truck exiting the worksite added its weight to it. Although Hasan was wearing safety boots, the impact was so great the boot cracked open, leaving him in pain. Two of his colleagues tried to move him but they failed. Finally, five to six of them managed to lift the metal plate and moved Hasan and his bloody foot to safety. Hasan sustained severe injuries on his back and left shoulders, and had 12 stitches on his foot.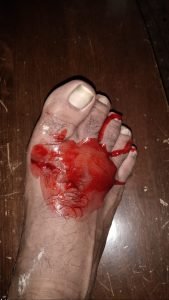 His company didn't want him to go to a proper hospital but sent him instead to the company's appointed clinics. However, he was only prescribed painkillers and was sent back on 21 days of light duty. When the pain persisted, Hasan was brought to the hospital, and was given the appointment to see an orthopaedic specialist only a month later. The specialist, seeing the severity of the injury, gave him close to 2 months of medical leave. During this period, Hasan's medical fees were paid for by his employer. Hasan's MC has ended on 20th July 2019.
Help Needed – Give Hope
Hasan took up loans from his fellow villagers as well as his elder brother who was working then in order to pay for the agent fees of S$5,000. The loan remains unpaid todate, and he has taken another loan of S$2,000 for his living expenses since he could not work after the accident. Hasan was the sole breadwinner of his family and worked 7 days a week in order to support his family – aged father (semi paralysed), housewife mother, unemployed married older brother, a younger brother, a married sister and a younger sister who just graduated and will soon be married. Hasan was earning $1,020 a month with overtime, and remitted the bulk of his pay home to his family. His pay essentially goes towards his brother's university fees and his sister's coming marriage in mid-August. In the Bangladeshi culture, it's well known that the bride's family has to pay the groom's family a huge sum of money prior to the wedding.
Hasan was rendered helpless after the accident and does not know who to turn to while he continues to seek recourse. He is currently attending weekly TCM and physiotherapy sessions offered by a migrant worker advocacy organisation. A bus trip from his dormitory to the centre would take 20 minutes, but Hasan walks all of an hour despite the pain on his leg as he is unable to afford the bus fare, let alone to send remittances home to his family.
Financial Breakdown
Ray of Hope would like to support Hasan by raising $900 ($300 x 3 months) for his living expenses while he awaits for an outcome of his re-assessment for his MOM compensation claim.
*Ray of Hope case workers have cited medical documents provided by Hasan. However, they will not be published as he is currently seeking recourse with MOM.