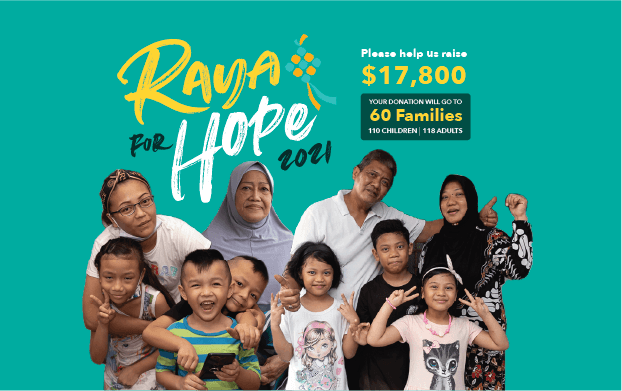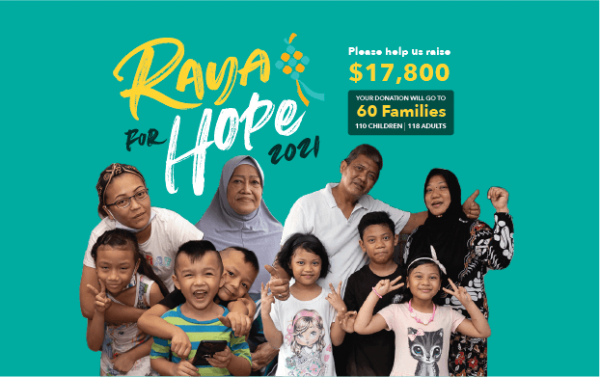 ---
S$

19,090.00
Raised of S$17,800.00
---
CAMPAIGN STORY
Every year, Muslims from around the world will be abstaining from eating and drinking from dawn till sunset during the month of Ramadhan. It is a time of spiritual introspection – of restraint, reflection and also as a window to experience the hardships that come with hunger and thirst.
Things are no different in Singapore. As the days progress into weeks, the tail end of Ramadhan flourishes into that of an approaching festivity. Homes become rowdy with laughter and frenzy as families busy themselves preparing cakes, cookies, decorations and many will be deciding on colour coordinated traditional outfits for the year. After 30 days of fasting, Hari Raya arrives – filling the atmosphere with the sound of joy and laughter.
For many, this is a yearly affair, but to others, Hari Raya celebrations is a far-reaching wish that may never come or has never been experienced. To them a solemn and lonely month, just like every other day.
—–
A Silent Echo
Mdm Halijah is an elderly who currently lives on her own. She was a mother to three children whose love for cooking once had the power to bring kith and kin together. Today, the halls of her house echo in emptiness, as she sits alone in a quiet 2-room flat, with no children in sight. Watch her story below:

Tears of a Mother
Mdm Faziahna is a single mother to 4 wonderful kids aged 16, 8, 6 and 4. Despite raising a home filled with the laughter of young children, it is also a home that sometimes drowns in tears and sorrow. For Mdm Faziahna, every day is a struggle. Every day is a fight against anxiety and uncertainty. While she dreams of success for her children, the coming festivities is a crushing reminder of the luxuries they do not have:

The Forlorn Father
Mr Yusoff is a figure of parenting done right. Despite suffering from multiple health conditions, and slogging in a job that does not pay very well, he and his wife, Mdm Noraini, has managed to raise three wonderful children in an environment that exudes a vast amount of love. Yet, the building blocks of heaven on earth comes with a hefty price. One that Mr Yusoff continues to toil for to this day:
Be the spark of joy this Hari Raya
Ray of Hope is raising $17,800 for 60 families and individuals (118 adults and 110 children) this Hari Raya so that they too, can celebrate with pride and dignity. Let us provide them with the warmth of empathy. Even a little goes a long way.
These are some of the families and individuals who will benefit from the Raya for Hope 2021 campaign:
1. https://rayofhope.sg/campaign/help-a-22-year-old-breadwinner-finish-school
2.https://rayofhope.sg/campaign/joanne/
3.https://rayofhope.sg/campaign/mdm-haslina/
4.https://rayofhope.sg/campaign/hanafi/
5.https://rayofhope.sg/campaign/shakil/
6.https://rayofhope.sg/campaign/help-a-single-mother-of-3-young-children-during-their-transition
7.https://rayofhope.sg/campaign/my-children-give-me-strength-so-i-have-to-be-strong/
8.https://rayofhope.sg/campaign/help-a-sick-elderly-with-living-expenses-2
Anonymous
donated
S$

100.00
6 months ago
I hope this brightens up your day and brings you some hope and cheer. Even though I do not celebrate Hari Raya, I hope this amount blesses you and shows you that above all things someone cares for you. God bless everyone. May you know that God has not forgotten you, and loves you very much.
Grace Hoo
donated
S$

20.00
7 months ago
Don\'t give up. I\'m thinking of you.
Serene Kok
donated
S$

20.00
7 months ago
Wish you great Ramadan
Hui Ying Koo
donated
S$

50.00
7 months ago
Anonymous
donated
S$

20.00
7 months ago
Anonymous
donated
S$

20.00
7 months ago
(Updates) Your donation to Raya for Hope 2021
Dear Raya for Hope Donors, We disbursed your donations to 60 families on the 5th May 2021, 1 week before Raya so that they could use the funds to prepare for the celebrations. We received many overwhelming messages from our beneficiaries who really appreciated the funds so they can celebrate……
S$

19,090.00
Raised of S$17,800.00
Hui Ying Koo
donated
S$

50.00
7 months ago
Anonymous
donated
S$

20.00
7 months ago
Anonymous
donated
S$

20.00
7 months ago
https://rayofhope.sg/campaign/raya-for-hope-2021/