Give hope to Vivian in her painful battle against end stage cervical cancer
Campaign started on 15/04/2020
S$

6,560.00
Raised of S$6,560.00
0

Days to go

100%

Completed
Campaign Story
By donating, you can give comfort to the 52 year old in her daily struggles
To be able to live healthily is something that is often taken for granted. Yet, staying alive remains a dream to Vivian, who was diagnosed with end stage cervical cancer. Since her diagnosis in 2017, the 52-year-old who was working in the hotel industry stopped work to receive treatment and is currently still on oral chemotherapy, with a prognosis of less than six months.
Being handed her life sentence has struck Vivian extremely hard, especially when the healthy single individual who has no next of kin now needs help in all aspects of her life – from her toileting needs, to feeding and dressing herself to moving around in her flat where she is staying alone, now that she is wheelchair-bound and getting weaker by day. With the cancer spreading to her lungs, liver and bones, Vivian's bilateral lower limbs are already swollen and she is no longer able to walk. Over the years, Vivian's savings is now depleting and she needs our help urgently to support the fees for hiring a helper for her day to day caregiving for the next six months.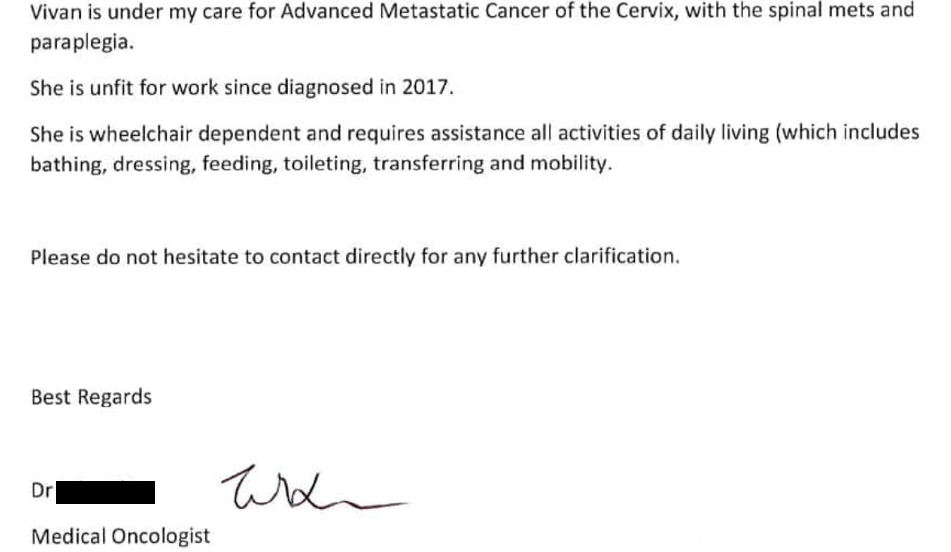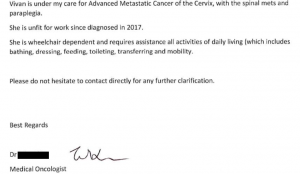 Financial Breakdown
Ray of Hope is raising $6,560 to assist Vivian with the following:
Fees for hiring of caregiver (MOM processing, insurance, embassy processing documents etc): $1,880
Caregiver payment and salary (first 3 months before Home Care Grant assistance kicks in): $1,000/month
Caregiver payment and salary (4th month onwards) : $560/month
Ray of Hope has cited the medical documents provided by the client. Funds raised will be paid to the relevant agencies directly.
November 6, 2020

Vivian has passed away

Ray of Hope was updated by the agency assisting Vivian with the employment of her caregiver that she had passed away this morning. The undisbursed amount of $4680 from Vivian's campaign will be re-channeled to the Emergency Fund to support other individuals and families under our care.

June 2, 2020

Updates on Vivian

The case worker visited Vivian with her nurse in end May. We were disheartened to hear from her that the last scans showed unfavourably and she's now fighting in the final three months as her cancer has spread to her lungs, liver and bones. Quoting her, "I loved jogging, swimming…Read More
https://rayofhope.sg/campaign/vivian/