S$

2,015.00
Raised of S$2,000.00
0

Days to go

100%

Completed
Campaign Story
The Struggle
Mdm Nur, 33 year old, is blissfully married to her 45-year-old husband and the couple has 4 school-going children (11, 7, 5 and 3). When the case workers met the couple, Mdm Nur told us that their lives were thrown into disarray since her husband was diagnosed with severe chronic illnesses two years ago.  Her husband who used to work as an Engineer was diagnosed with a series of chronic illnesses two years ago which originated from the swelling of his legs. His medical conditions including thrombophlebitis which is the inflammation of veins resulting in blood clot, acute kidney injury, pneumonia, gout, fluid overload and cellulitis have caused him to be in pain most of the time, and the doctors have certified him to be unfit for employment indefinitely. He also struggles with severe breathlessness which can be life-threatening.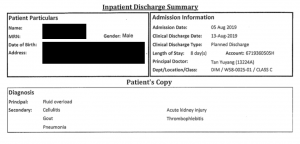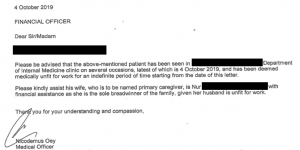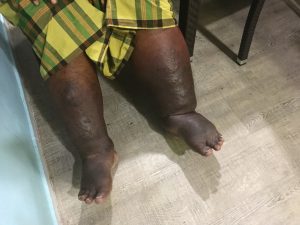 Ever since her husband was certified unfit for employment. Mdm Nur took on the role of supporting the family by taking on two jobs concurrently. She works as a freelance babysitter and relief private hire driver, and brings home around $1,900 a month. With so many mouths to feed in the household, her salary is insufficient to make ends meet. Her caregiving duties as a wife and mother in the family puts her in a difficult position to seek full-time employment as her husband is incapable of taking care of taking care of himself and cannot be left alone at home. Mdm Nur's children are sensible and takes turn to take care of their dad while their mum is at work. However, there are also things that even their 11-year-old son cannot cope with such as supporting his dad in the shower. Nonetheless, Mdm Nur's two older children try their best to share the caregiving load with their mum when she goes out to work.
Help Needed – Give Hope
With a sole income at home, there is an overwhelming load of bills to handle each month and the couple always runs into a deficit. Although their children's fees are fully covered under the Financial Assistance Scheme (FAS) and they are receiving assistance under the School Pocket Money Fund, Mdm Nur still needs to top up for their pocket money allowance and Ez-link cards each month. The family is struggling with their groceries and the children's milk and diapers.
Financial Breakdown
Ray of Hope would like to raise $2,000 ($400 x 5 months) to defray the family's expenses for their groceries as well as the children's milk and diapers expenses.  
*Mdm Nur's SSO assistance is currently being renewed.
January 23, 2020

3rd Disbursement

Mdm Nur updated the case workers that the family is doing fine when they met her for her cheque disbursement recently. She wishes to thank the donors who have donated to her campaign as the funds have been helpful for her children's expenses.

December 30, 2019

2nd disbursement

Mdm Nur has received her 2nd disbursement from Ray of Hope. Thank you donors!

November 11, 2019

1st disbursement

The case workers met Mdm Nur for her first disbursement last week. She updated us that her SSO renewal and MUIS application is being processed. In the meantime, she is very thankful for the assistance from ROH which will help with her children's expenses.
A
Anonymous
Donated
S$

320.00
February 04, 2020
Stay strong! From - EddyHobson Charity Team
T
Tai Hwa Ng
Donated
S$

5.00
January 11, 2020
Donated
S$

500.00
December 17, 2019
R
Ryan Sham
Donated
S$

500.00
December 13, 2019
A
Anonymous
Donated
S$

50.00
November 16, 2019
Y
Yati Yani
Donated
S$

100.00
October 28, 2019
May Allah blessed both of you with great strength to overcome this difficult time. Amin ya rabbal alamin.
J
Ju Hock Tan
Donated
S$

500.00
October 20, 2019
S
Shidah Chuang
Donated
S$

20.00
October 19, 2019
A
Anonymous
Donated
S$

20.00
October 15, 2019